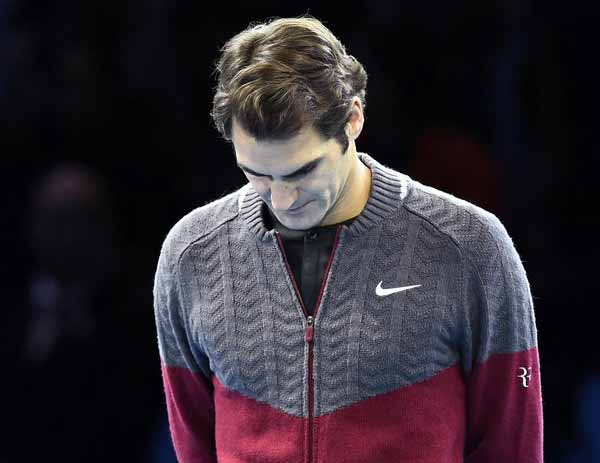 Roger Federer of Switzerland waits to announce that he is injured and unfit to play Novak Djokovic of Serbia in the men's singles final tennis match at the ATP World Tour Finals at the O2 in London, November 16, 2014. [Photo/Agencies]
LONDON - Injured Roger Federer, who had been forced to pull out the title match at the World Tour Finals, was due to in Lille on Monday for more treatment.
Federer hurt his back in a three-hour semifinal win over his Swiss compatriot Stan Wawrinka on Saturday night and was unable to front up on Sunday against Novak Djokovic.
Federer was involved in reports of argument with his Davis Cup teammate Wawrinka as the Swiss team is heading to the Cup final against France starting on Friday.
Swiss Davis captain Severin Luthy, who has the uncomfortable role of serving as coach to Federer and friend of Wawrinka, said the Federer back problems remain an unknown factor for the final in five days.
"We don't know how serious his back problems, we hope that Roger will be fit again Friday.
"Our team doctor Roland Biedert arrived Sunday in London, and he and the therapist Daniel Troxler will do everything to Roger to get him back as soon as possible."
The reported verbal spat between Federer's wife Mirka, sitting in the player box, and Wawrinka occurred late in the final set of the thriller.
Reports suggest that the player pair were fuming after Wawrinka complained to chair umpire Cedric Mourier after her alleged shouting between his serves at one point.
With the match ending in a tight Federer win, reports indicate the Swiss pair got into a shouting post-match argument in the gym.