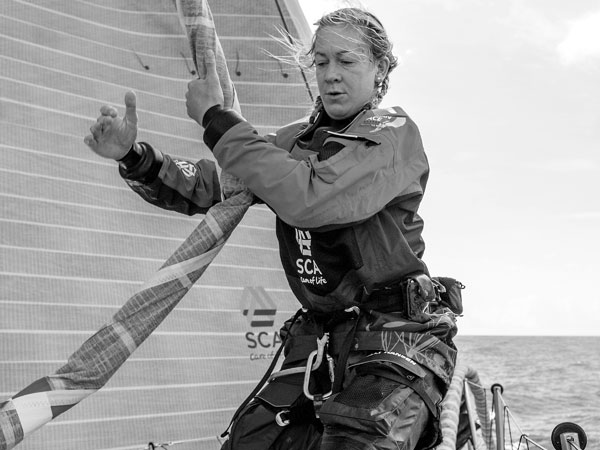 Team SCA's Sophie Ciszek helps hoist the sail during Leg 1 of the Volvo Ocean Race last month. CORINNA HALLORAN/TEAM SCA/ VOLVO OCEAN RACE
Female crew steals spotlight in round-the-world race
Boats from Abu Dhabi and China-two nations with no great tradition in offshore racing—have emerged as the early front-runners for the sport's premier prize, the Volvo Ocean Race.
Abu Dhabi Ocean Racing edged Chinese rival Dongfeng Race Team by a mere 12 minutes after 25 days at sea last week in one of the closest finishes of the opening stage in the 41-year-old event's history.
But also catching many people's eyes was the all-women crew in one of the biggest and most high-profile round-the-world yacht races.
"This is an incredible once in a lifetime opportunity and I am really excited about the next couple of months," said Sophie Ciszek, a member of Team SCA.
This is her first Volvo Ocean Race. Also it is the first time an all-female crew has entered the Volvo Ocean Race since 2001-02.
"Basically, this team is quite a benchmark in the sport and it has been over a decade since we have had women in the race," Ciszek said.
In 2012, SCA announced its participation with an all-female team as it pointed out about 80 percent of the retail products SCA makes are purchased by women.
Previously called the Whitbread Round the World race, the event has been running for more than 40 years and this edition will make stops in 10 countries and regions in a span of nine months. The seven teams will encounter rough seas of more than 10 meters, days of no wind, hurricanes and extreme temperatures. They will live on their 65 foot yachts while offshore and spend a couple of weeks at each stopover before carrying on to the next port.
Sailing is a physically demanding sport and even though the crews are racing the same boats, on the same oceans, the women are less experienced and strong.
"Yes, we are never going to be as physically strong but that is where we have to be a bit clever and sail in a way that works for us. It is one of those unique sports that we can compete on an equal playing field," said Ciszek.
Last Friday, at the back of the fleet in Leg 1 (from Alicante to Cape Town), Team SCA played a thrilling catch-up, pulling off a stunning coup to snatch sixth place from MAPFRE.
"While we are training, we do our workouts in a gym and train as a team doing mostly weight and circuit training mixed in with some running and cardio work. We also concentrate on agility training and core strength which is very important onboard to avoid injury. Mentally, our coaches also have treated us pretty tough at times. They know how tough this race is going to be so they often use their own experiences to give us examples of situations we will go through."
With all of the difficulties, Ciszek, as an experienced bowman, is living her dream.
"The Volvo Ocean Race is one of the largest offshore sailing events. And to be doing it as part of an all-female team is a dream we have all had since we began sailing. It is an amazing feeling to be surrounded by like-minded crew members and to be competing against names we have been inspired by," she said.
"To win the title is one of the biggest accomplishments you can achieve in offshore sailing. And, as a team, we would like to be remembered as the best performing female team in the Volvo Ocean Race and to have been the girls to inspire many more women to keep up sailing or achieve great things in their sport of choice."