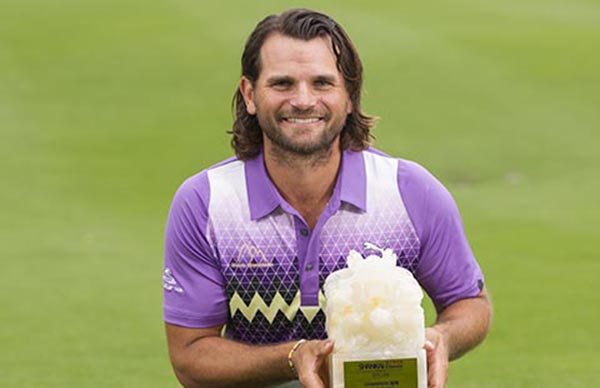 Johan_Edfors holds the trophy. [Photo provided to chinadaily.com.cn]
Johan Edfors produced a stunning finish to win his first tour event in five years at the inaugural Shankai Classic presented by IDG Capital Partners on Sunday.
Edfors put together four consecutive birdies to cap a fine 66 for a total of 15-under-par and a three-shot win over Michael Lorenzo-Vera of France in second place. China's Hu Mu, Bernd Ritthammer of Germany and the Netherlands' Tim Sluiter finished a shot further back in a tie for third.
Edfors, who moves up from 59th in the European Challenge Tour rankings to 13th after collecting a check for $56,000, had been without a victory of note since the 2009 Black Mountain Masters on the Asian Tour, a run that looked set to continue after he made nine consecutive pars to start his round. But the 39-year-old fought back in style to surge through a packed leader board with six birdies down the closing stretch of the $350,000 event.
"It's been a tough couple of years for me but I've been able to pick up my game and it feels fantastic, I'm really happy," said an emotional Edfors, who admitted he had been close to quitting the game last year after injuries and a desperate run of form had seen him lose his European Tour card.
"To be honest I don't think I have ever been as nervous as I was today, especially at the beginning of the front nine," the Swede continued. "It's a lot easier to win on the European Tour than out here – there's so much at stake. A win here almost gets you straight back on the main tour, so I knew I had to do something special out there on the back nine.
"Before my Dad passed away earlier this year I promised him I'd make it back – and now I am back."
Before Edfors' birdie blitz the likely winner of the title was not assured as four other players – Lorenzo-Vera, local favorite Hu, overnight leader Antonio Hortal of Spain and Italian Matteo Delpodio – held a share of the lead deep into the back nine.
Indeed, it was the 25-year-old Hu who looked strongest of all, as he fired six consecutive birdies from holes 11 through 16 to give the large galleries at Chongqing Poly Golf Club plenty to cheer.
"I am satisfied now – six birdies in a row on the back nine to be the co-leader is a really good feeling," said Hu, who closed with a 67. "I tried to make an eagle at the 18th to give myself a chance, but nothing happened."
Hu got off to the worst possible start with a triple bogey at the opening hole, but showed superb composure to get himself back into contention for his maiden professional win.
"Actually that mistake at the first hole helped me mentally," Hu revealed. "After that I felt I had no chance for the trophy, so I just tried to do my best, nothing more. This week gives me great confidence for the tournaments ahead."
Lorenzo-Vera was another satisfied man after his second place secured his playing rights on the European Tour next year. The 29-year-old, who moves up to sixth in the Challenge Tour rankings, comfortably inside the top 15 who will automatically qualify for the main tour at the end of the season, said: "I hit some really good shots all day long, holed a few putts on the front nine, and then after that I was just hitting it straight at the flag so I had plenty of opportunities, and it turned out pretty good.
"At the end I felt comfortable on almost every shot, and I just went for it, and it worked out," added the Frenchman, who was another who finished with a flourish, carding five birdies in the last six holes. "I was watching the leader board all day, and I knew that I was nine-under with three to play so I wanted to see what I could do before the finish, and I did pretty good!"
Edfors, who won three European Tour titles in a glorious four-month period in 2006 to put himself in the frame for a Ryder Cup place, added that he had been inspired by Oliver Wilson's win at the Alfred Dunhill Links Championship in Scotland earlier this month. Wilson, who had been experiencing a similarly lacklustre season on the Challenge Tour, received an invite to play in the St Andrews-based event and ended up recording his maiden European Tour victory.
"It was great to see Oli win for the first time and get back to the level where he belongs – it's definitely inspirational for me," Edfors said. "I took the decision in late July to play the Challenge Tour for the rest of the year, because I hadn't performed well on the [European Tour] invites and it was really tough for my family because I wasn't able to make any plans. That decision looks like it paid off."