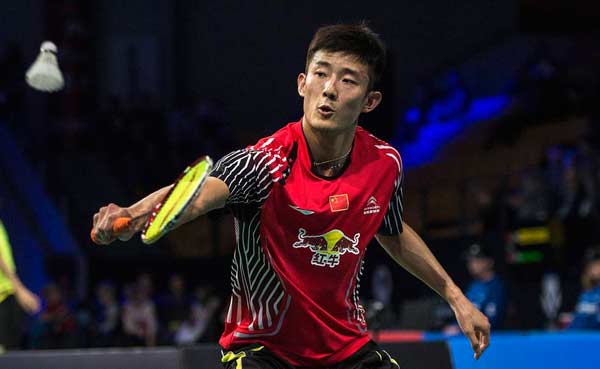 Chen Long of China plays against Kashyap Parupalli of India (not pictured) during their Denmark Open 2014 Mens Single semifinal badminton match in Odense, Oct 18. 2014. [Photo/Agencies]
Men's singles Chen Long, seeded No 2, locked a slot in the final after winning his semifinal against Indian Kashyap Parupalli 21-16, 21-15. Chen will face in the final Wan Ho Son of South Korea, who beat China's Tian Houwei 21-17, 21-9.
In the men's doubles final, top seed Lee Yong Dae/Yoo Yeon Seong of South Korea will defend their title against Fu Haifeng/Zhang Nan from China.
The Korean duel defeated Danish Mathias Boe/Carsten Mogensen 21-14, 21-17, while Chinese Fu and Zhang breezed over world champions Ko Sung Hyun /Shin Baek Choel of South Korea 21-15, 23-21.
The final in the women's doubles will be between Wang Xiaoli/Yu Yang from China and Misaki Matsutomo/Ayaka Takahashi from Japan. Both pairs scored wins against their fellow countrywomen in the semifinals.
The mixed double final will pitch Ma Jin/Xu Chen from China against Tontowi Ahmad/Liliyana Natsir from Indonesia.
Ma and Xu beat their teammates Liu Cheng and Bao Yixin 21-12, 21-9, while Ahmad and Natsir, the All England champions, won over Indonesian Riky Widianto/Puspita Richi Dili 21-10, 21-15.