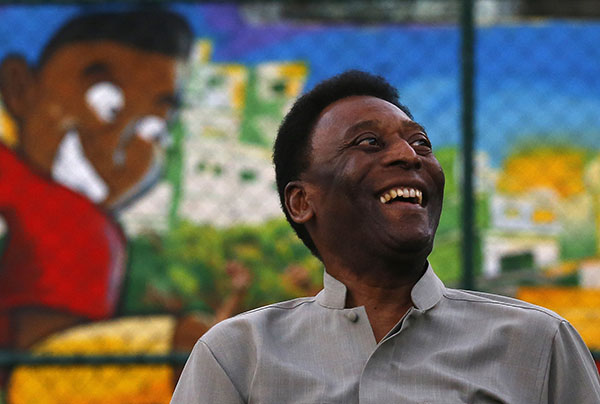 Brazilian soccer legend Pele laughs during the inauguration of a refurbished soccer field at the Mineira slum in Rio de Janeiro September 10, 2014. The soccer pitch was refurbished by Anglo-Dutch oil company Royal Dutch Shell using underground tiles which capture kinetic energy created by the movement of the players and combined it with the solar energy that feeds its new floodlights, the organizers said. [Photo/Agencies]
RIO DE JANEIRO - Pele reminded Brazilians what they already knew, and were shown so obviously in the humiliating 7-1 loss to eventual champion Germany in the World Cup semifinals: Brazil must play as a team, not as individual stars if it is to win a sixth title.
Years of growing anticipation turned to disappointment and despondence after the underperforming Brazilian squad failed to deliver a World Cup title on home soil in July. And after being bundled out of contention by Germany, Brazil lost 3-0 to the Netherlands in the playoff for third place.
"There's no need to explain that what happened was a disaster," Pele said Wednesday. "We had expectations of a different result, but this is something of football. We always have big surprises in football and, unfortunately, it was a negative surprise for us."
Luiz Felipe Scolari quit as Brazil coach immediately after the tournament and was quickly replaced by former Brazil midfielder Dunga, who previously guided the national team from 2006 to 2010.
"Dunga was already the head coach of Brazil. He is a trustworthy person," Pele, speaking at an endorsement function in Rio, was quoted as saying. "I know him personally, know how serious he is. But it won't be hard to have the national team rebuilt. The only thing we need is a more serious work."
Pele, who scored 77 goals for Brazil between 1957 and 1971, said it was wrong to place so much emphasis on star striker Neymar in the Brazil team. Neymar fractured a vertebra in his back during the quarterfinal win over Colombia, and missed the remainder of the World Cup, throwing the Brazil attack into disarray.
"Neymar alone will not win a World Cup," he said. "Neymar is a very good player, raised at our Santos FC, but he himself will not win a World Cup by himself. We need several ... to win a World Cup."