Quiet achiever finally emerging from Li Na's vast shadow
Peng Shuai's soft-spoken demeanor hides a steely resolve that has seen the surprise US Open semifinalist through some rocky stretches on the road to tennis success.
In her 37th Grand Slam singles appearance, the 28-year-old Peng has at last made it past the fourth round and will battle on Friday for a place in the US Open final.
She is just the third Chinese player to reach the final four of a major, following in the footsteps of two-time Grand Slam winner Li Na and double semifinalist Zheng Jie.
Her success has sparked inevitable comparisons to Li that Peng smilingly does what she can to discourage.
"She's one of the really good tennis players because she has a lot of big wins. But everybody is different," said Peng. "She is she and I am me."
Certainly Peng's earnest remarks, delivered in a genial voice barely above a whisper, could never be confused with the sly wit that has helped make Li a sponsors' darling.
Although Peng admitted this week she felt more pressure of Chinese expectations with Li absent from the Open with a knee injury, she said that didn't mean she was content to toil in her colleague's shadow.
"I never felt like I was in her shadow because I love to play. That's why I continue."
However, Peng's tennis dream nearly ended when she was 12, when doctors told her a congenital heart defect meant she would have to quit the sport she had come to love since she first picked up a racket four years earlier.
Surgery - at the youngster's insistence - solved the problem and, after a year to recover, she was pursuing her goals again.
A promising first two years as a pro were followed by mediocre results, injuries and disagreements with Chinese authorities on how best to pursue her career.
"I almost stopped playing," she said. "For three or four years it was really tough mentally.
"Then slowly, slowly, slowly ... my team told me to keep going," she said until she began to play the "tennis I dream about".
She reached her highest singles ranking of 14 in 2011 but another spate of injuries followed.
Although her singles career languished, Peng carved out a niche in doubles, winning 16 titles, and in February became the first Chinese player to claim a world No 1 ranking as she topped the doubles chart.
She and longtime doubles partner Hsieh Su-wei of Chinese Taipei teamed up to win their second Grand Slam title at the French Open this year.
The two bowed out in the third round at Flushing Meadows, giving Peng the chance to focus all of her energy on her singles campaign.
Asked to explain why she is doing so well at the US Open now, after so many years of falling short, Peng was at a loss.
"Maybe this time I find a way," she said, "or I catch the right time."
She's the only woman apart from five-time champion Serena Williams who has not dropped a set in the tournament and on Tuesday she schooled 17-year-old Belinda Bencic, delivering a barrage of pinpoint passing shots in a 6-2, 6-1 quarterfinal win.
A surprise, yes, but also a reward for Peng's steadfast belief in her own game.
"I dreamed about it," she said of reaching the semis. "Because everybody was telling me all week maybe you have a chance to get to quarters, so I was really happy to be first time in the quarters.
"And I went to the semis. Of course it's exciting, it's a surprise but it's not like I felt like I could not (do it)."
Peng maintained her consistency against Bencic, hitting 24 winners and committing only seven unforced errors. Her young opponent, meanwhile, appeared to become unglued in the muggy, 92-degree heat of Arthur Ashe Stadium.
The 58th-ranked Bencic was the youngest quarterfinalist at Flushing Meadows since her mentor, Martina Hingis, won the title at 16 in 1997. Bencic is coached by Hingis' mother, Melanie Molitor.
The Swiss teen was issued a code violation for receiving help from her box while down 2-0 in the second set.
"It's 6-2, 2-0 and you're giving me a code violation?" Bencic yelled at the umpire.
She went on to lose that game to go down 3-0.
"It was a little bit tough," Bencic said, "but I think it was awesome tournament for me."
Peng faces Caroline Wozniacki for a place in the final. The Dane moved into her first Grand Slam semifinal in three years by overwhelming 13th-seeded Sara Errani of Italy 6-0, 6-1 on Tuesday night in a wind-whipped match.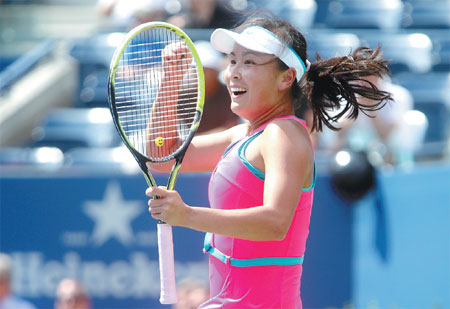 Peng Shuai celebrates after winning match point against Belinda Bencic in their quarterfinal at the US Open on Tuesday. Jerry Lai / USA Today Sports
(China Daily 09/04/2014 page24)