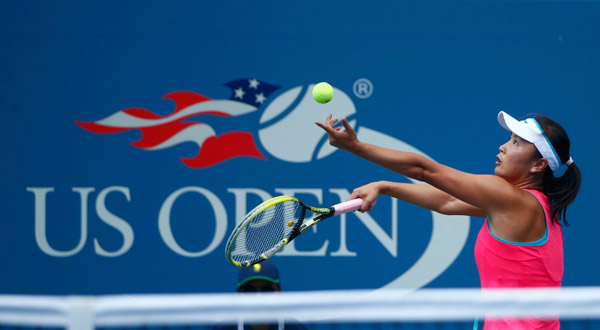 Peng Shuai of China serves to Belinda Bencic of Switzerland during their quarterfinals match at the 2014 US Open tennis tournament in New York, Sept 2, 2014. [Photo/Agencies]
Peng Shuai's road to quarterfinal:
China's Peng Shuai is through to the semifinals of this year's US Open women's singles draw after besting Switzerland's Belinda Bencic, 6-2, 6-1, in the tournament's first quarterfinal match on Tuesday afternoon.
Peng's first attempt at playing in the US Open quarterfinals went swimmingly, as she jumped out to a quick lead against Bencic and never looked back in a straight set win.
Bencic, a 17-year-old, was hoping to become the first Swiss woman to reach the US Open semis since 2001. But Peng had other plans.
Much of the match was dominated by the 28-year-old Peng, who at times was able to overpower the young upstart Bencic. And the quarterfinal match was actually the shortest that Peng has played in five matches at this year's event, and she hasn't lost one set.
"My parents always told me to fight, to never give up," Peng said shortly after her win on Tuesday.
This year marks the 10th time she has entered the US Open, but she had never advanced beyond the fourth round before this run.
As only the third Chinese woman to ever play in a Grand Slam quarterfinal, Peng has already exceeded expectations. And she does not seem to be fazed by one of tennis' biggest stages.
Though there's still a good bit of tennis to play, Peng is just two matches away from her first US Open tennis championship.
In an article published by ESPN on Monday, Peng said she was happy to see that Chinese tennis had grown but added that she was "just a little mark in there".
Odds are she'll be turning more heads if her take-no-prisoners level of play continues.
Peng will face the winner of the second women's quarterfinals, a match between Denmark's Caroline Wozniacki and Italy's Sara Errani, in the first women's semifinal match on Thursday.
jackfreifelder@chinadailyusa.com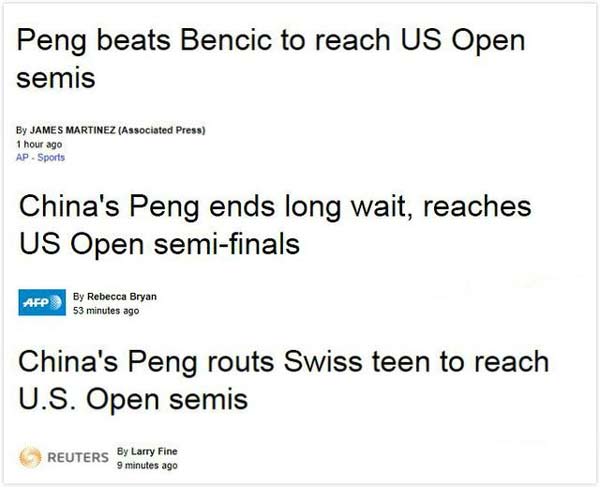 Three major news agencies in the world report Peng's historic win.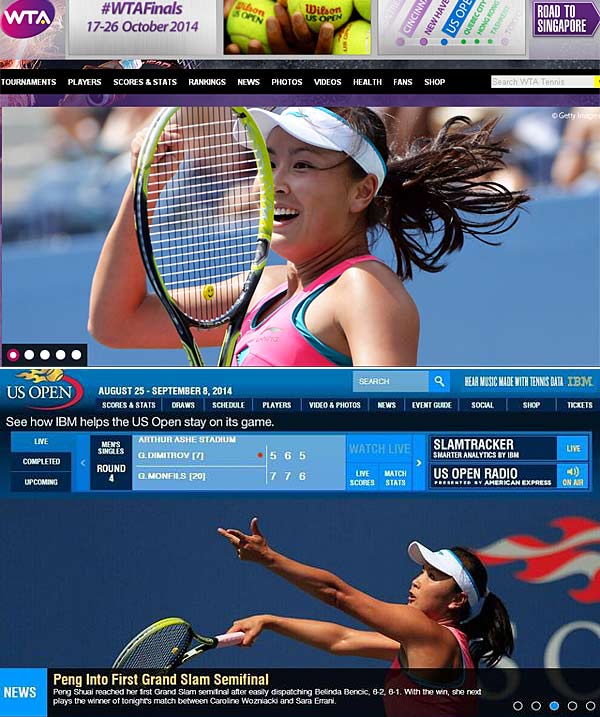 WTA, top, and US Open official website hail Peng's victory.