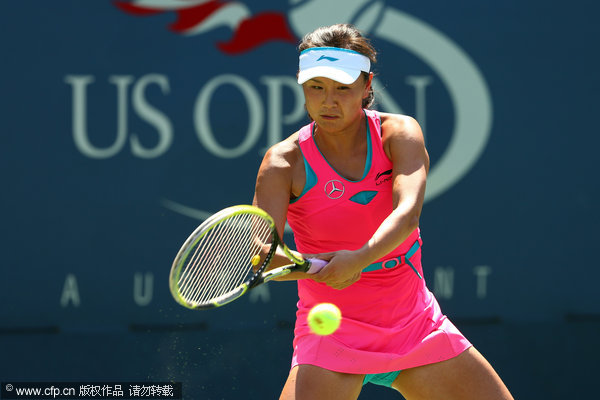 Peng Shuai of China returns a shot against Zheng Jie of China during their women's singles first round match on Day One of the 2014 US Open at the USTA Billie Jean King National Tennis Center in New York, on Aug 25, 2014. [Photo/CFP]
NEW YORK - World number 39th Peng Shuai beat compatriot Zheng Jie 6-3, 6-3 in the 2014 US Open first round match here on Monday.
It was the sixth meeting between the two on WTA tournaments, and Peng leveled the overall score to 3-3 after Monday's victory.
"You always feel nervous when you meet a person from the same country," said Peng after the match.
"We were teammates for so many years and we know each other very well."
The 31-year-old Zheng planned to represent China to take part in Incheon Asiad next month.
Peng would face the fourth seed Agnieszka Randwanska in the next round.