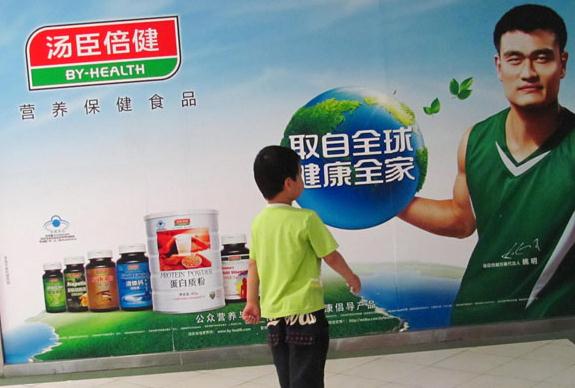 An advertisement in Beijing features former NBA star Yao Ming and By-Health products. [Photo/China Daily]
A court in Beijing has rejected the jurisdictional objection raised by former NBA star Yao Ming in a lawsuit filed against him for deceptive advertising, the China Youth Daily reported.
The case will still be heard by the Xicheng District People's Court, but the court date has yet to be scheduled.
Feng Changshun told the court in May that he bought fish oil capsules endorsed by Yao, but that the product had failed to ease his memory and eyesight problems as advertised.
Yao then asked the court to transfer the case to the Xuhui District People's Court in Shanghai, where he resides.
Baxsun Pharmacy, a retail chain that is also being sued by Feng for exaggerating the benefits of the capsules, has supported Yao's application, saying the case was a malicious civil proceeding targeting a celebrity.
According to the Law on the Protection of Consumer Rights and Interests, enacted on March 15, social groups and individuals who endorse products or services that harm consumers should be held liable, together with the producer or service provider.
The latest amendment to the Advertising Law, submitted on August 25, prohibits endorsers from speaking for products and services before using them themselves.