As odd as it may seem, Lionel Hollins, the new head coach of the Brooklyn Nets, has a love affair with China.
With less than two months before the tip-off of two NBA Global Games, featuring the Brooklyn Nets and Sacramento Kings in Shanghai and Beijing, Hollins talked to Chinese press by phone from New York last week about coaching, the upcoming season, and his long-running relationship with China.
Unlike other NBA coaches, such as his quote-friendly predecessor Jason Kidd, Hollins has been tagged as a no-nonsense, straightforward dude.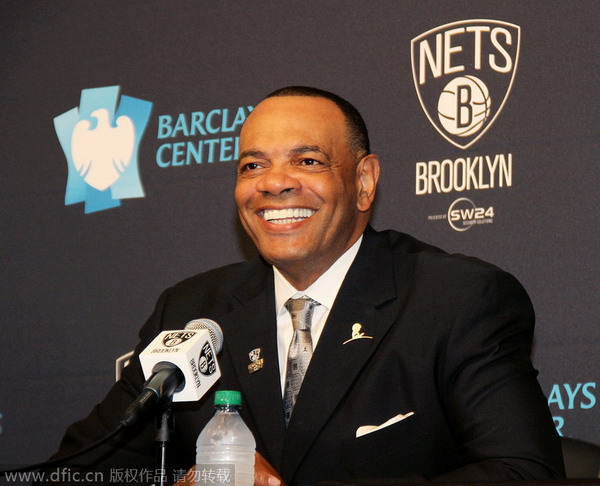 The Brooklyn Nets, introduce their new head coach Lionel Hollins, at a press conference, at the Barclays center, Brooklyn, New York, July 8, 2014. [IC]
Still, that doesn't mean that the 60-year-old who just took the helm of the team last month can't be a delight. As the Chinese press corps found out, it just takes some time.
After politely answering some random questions, ranging from his ideal dinner companion to his favorite movie, Hollins talked at length about his first trip to China more than three decades ago. He was still an NBA point guard at the time and was in China with some other NBA stars for exhibition games.
"In the two-plus weeks we played a lot of different games throughout China. I was in Beijing, Shenyang, Hangzhou and also Shanghai. We played a series of exhibition games with NBA players and the players association under the direction of Lawrence [Larry] Fleischer, who was director of the [NBA] Players Association at the time, and it was an eye-opening experience."
There were two main takeaways from the first trip: people and bikes, and lots of both.
"I remember people everywhere.