CEO of Nets aiming to boost team's brand in 'critical global market'
For an NBA team to be truly successful these days, it requires powerful brand recognition as much as it needs a strong backcourt.
It also aims to develop a fan base as deep in Beijing or London as it is in Brooklyn or The Bronx.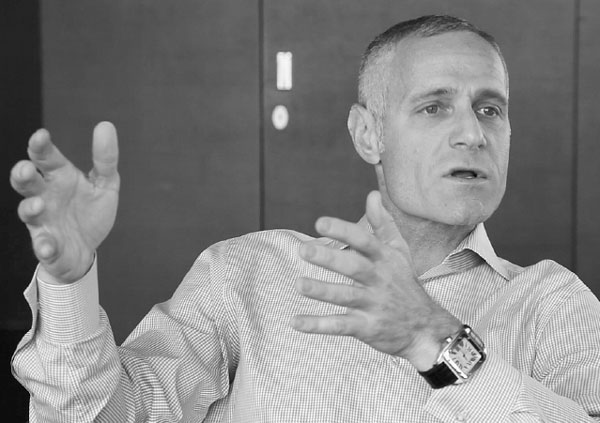 Brooklyn Nets CEO Brett Yormark says the NBA's global growth is directly dependent on the Chinese market. Wang Yuxi / China Daily
Building such a Yao Ming-sized global footprint is the job of Brett Yormark, chief executive officer of the Brooklyn Nets, who was in Beijing this week to promote two October preseason games in China against the Sacramento Kings.
Yormark, 47, is one of a new generation of NBA dealmakers who appreciates China's booming appetite for basketball and understands there are 30 teams jostling for a piece of the action.
"China is, obviously, a critical market. It's the biggest global market for the NBA. I think all teams aspire to have a following just because of the scale that exists here," said Yormark, who was making his sixth trip to the Beijing.
"If our players' profiles and our team profile can grow here, that would be a big thing for us, and that's the goal."
According to NBA China, the league is the top company in all of China in terms of social media followers with 70 million, and sales of NBA merchandise have posted triple-digit increases every year since 2008. Perhaps most striking, the NBA had 4.5 billion page views from China last season.
The Nets have some unique inroads to the Chinese market. Before relocating to Brooklyn from New Jersey in 2012, the team made consecutive appearances in the NBA Finals in the early 2000s and in 2008 scooped up Chinese star Yi Jianlian.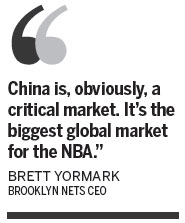 A blockbuster trade last summer brought in Paul Pierce and Kevin Garnett, who is arguably the most popular NBA player in China. The flashy front office moves translated into soaring merchandise sales and increased TV exposure in China.
"I think acquiring Yi gave us instant recognition and credibility from that perspective, but I think with the brand moving to Brooklyn, the profile has grown enormously - not just domestically in the US but globally in China," said Yormark.
Still, luring fans to a team that until recently was seen as a poor performer with a dwindling US fan base has been no easy slam dunk.
"More Nets games were on live broadcast last year, but the number still can't compete with the Rockets, Lakers and Heat. Kevin Garnett is arguably the most popular player on the team, but he didn't play well last year, which plays a role in their viewership," said Huang Shuo, chief NBA editor at Sina Corp, the league's premier Internet partner in China.
Perhaps more challenging is the fact Chinese fans can be discerning. For example, it was not lost on China's online pundits that the Nets' stellar roster led to a record $90.57 million in luxury taxes last season, yet failed to bring a championship.
Some critics even labeled the Brooklyn team as "tuhao," a trendy term for the free-spending yet uncultured nouveau riche.
"In the Nets' defense, I don't think 'tuhao' is too much of a negative concept. Willingness to spend money is the first step of their strategy. If they want to go further, they will have to elevate their game. And from the ownership standpoint, they will also have to be more rational when it comes to investment," said Huang.
Yormark, for his part, tries to balance on-court success and failure with the franchise's financial bottom line.
"Only one team out of 30 can win the championship ... but that doesn't mean the 29 teams that didn't win did not have a good season," he said.
"My goal for the team is to be competitive every year, to be relevant, to be part of the conversation. And you gotta be a little lucky to win a championship - our ownership is committed, as you can see. They are providing us with all the resources we need to be successful."
But for diehard Nets fans like Yin Rongpeng, pragmatism is not always an option when basketball loyalties are involved.
"I always want to see the Nets win the championship. I'm basically satisfied with what the team did in the first two years in Brooklyn," said Yin, 23, from Sichuan province. "And I am proud of having a Nets boss like (Russian billionaire Mikhail) Prokhorov, who really tried. If (All-Star center Brooke) Lopez hadn't got hurt, I'm pretty optimistic we could've won the championship last year."
The intersection of finance and fan loyalty is where Yormark and Yin meet. The former is an executive trying to win over Chinese advertisers and sponsorships, the latter a rural fan hoping to get a step closer to his favorite team.
"I probably will not be able to attend either of the Nets preseason games in China," said Yin. "But I will save up to buy a new jersey."
Q&A with Brett Yormark
Brett Yormark, the 47-year-old CEO of the Brooklyn Nets and the team's home arena, the Barclays Center, joined the Nets in 2005 and became the architect of their move from New Jersey to Brooklyn in 2012. During his sixth trip to China last week, Yormark spoke to China Daily's Yan Weijue about rebranding, global strategy and basketball:
Now that you've been here several times, including last fall, do you think the Nets have a bigger foothold in China now?
Certainly bigger than it was. I think the move to Brooklyn has helped dramatically. Our jerseys are selling here better than they ever have. For the Chinese consumer and basketball fan, Brooklyn seems to resonate with them. And some of our players last year - Paul Pierce, Kevin Garnett, Deron Williams, Joe Johnson - these are names that are recognizable here. When we come back in the fall we'll have some recognizable players that will be with us and I think our brand here will continue to grow.
Is it safe to say the Nets aim to be a global team?
Absolutely. We always advocate playing internationally when we can. Last year we played in London at the O2, and this year we're coming back to China. London is a market that is very dear to us. We've been there three times now and I think we'll continue to play in London, assuming the NBA wants us there. Russia is a big market for us, obviously, with a Russian owner and two Russian players, one of which is Andrei Kirilenko, who is very popular. Yes, we definitely aspire to be global. It is very much a part of our strategy.
How does China compare to the UK and Russia as a market for the NBA?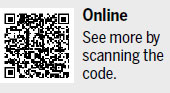 I think they're all important. Russia is important because our ownership is there, we have Russian players. The sport isn't as popular in Russia, but we can certainly be a catalyst to increase awareness of the NBA there. The UK really supports NBA basketball. Regular season games are played there now. We participated in those last year and our brand was everywhere. But China, obviously, is a critical market. It's the biggest global market for the NBA. I think all teams aspire to have a following here in China just because of the scale that exists here.
As CEO of the Brooklyn Nets and Barclays Center, what's an average day like for you?
My role, first and foremost, is to create a culture, both for the arena and the team, that will continue to be successful. And I spend a lot of time with my employees. But what I like to do, and spend most of my time doing, is building a brand. That's what I've always done in my career and I'll continue to do it.
Do you have any advice for Chinese entrepreneurs who want to copy your success?
I always tell people to dream big, aspire to be who and what you want to be. Whatever you wind up doing, whether it is in sports business or otherwise, be passionate about it. I think passion is an incredible part of anyone's success. I'm very passionate about what I am doing every day.
yanweijue@chinadaily.com.cn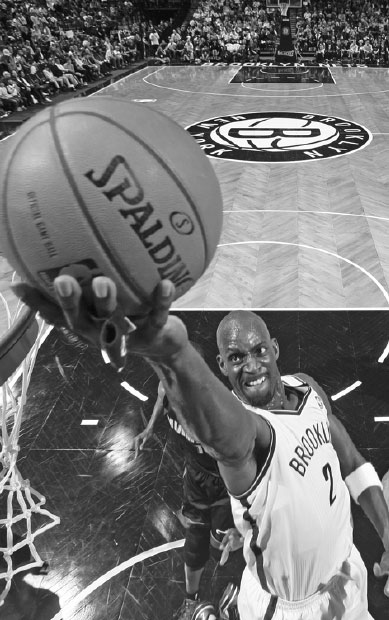 Kevin Garnett of the Brooklyn Nets goes up for a shot against the Miami Heat during Game 3 of their 2014 Eastern Conference semifinal at Barclays Center in Brooklyn. Garnett is hugely popular in China. NBAE / Getty Images / AFP