Barry Bonds, Roger Clemens, Mark McGwire and other former players linked to performance-enhancing substances now have less time as candidates for the Baseball Hall of Fame in Cooperstown, New York.
Hall of Fame officials announced on Saturday they were changing induction rules for the first time since 1991, trimming the maximum number of years that retired players remain on the ballot from 15 to 10.
Players must be listed by at least five percent of voters from a North American media panel to remain on the ballot. Election to the Hall of Fame requires support from 75 percent of the voters.
"The board is committed to keeping the policies and voting procedures of the Hall of Fame relevant," said chairman Jane Forbes Clark. "The board believes these changes are necessary to ensure the integrity of the voting process moving forward."
The move leaves McGwire, whose former one-season homer mark was tainted by his later admission of using steroids, only a maximum of two chances to be voted into the Hall.
Bonds and Clemens each have eight more seasons of ballot eligibility.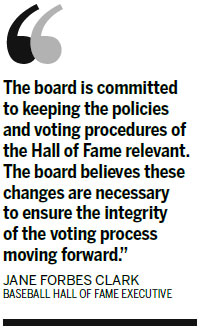 So far, voters have shown little support for McGwire and others linked to doping, even though trials involving Bonds and Clemens did not result in convictions confirming their doping despite links to trainers who were involved with banned substances.
McGwire's best vote total was just more than 25 percent in 2008 but fell almost six percent to 11 percent last year.
Clemens, a seven-time Cy Young Award winner as a league's top pitcher, slid from 37.6 percent support to 35.4 last year in his second time on the ballot. Seven-time National League MVP Bonds lost ground with voters last year as well, dipping to 34.7 percent from 36.2 percent.
The changes were announced on the eve of this year's induction ceremony, which will see retired stars Tom Glavine, Greg Maddux and Frank Thomas and former managers Tony La Russa, Bobby Cox and Joe Torre be enshrined.
Three players who have been on the ballot between 11 and 15 years - Don Mattingly, Alan Trammell and Lee Smith - will remain under consideration for their full 15-year term as needed.
Mattingly's final scheduled ballot appearance is next year, Trammell's is in 2016 and Smith's is in 2017.
(China Daily 07/28/2014 page23)