Britain's Deputy Prime Minister Nick Clegg joined calls on Sunday for Russia to be stripped of the World Cup in 2018 following the downing of flight MH17 over Ukraine.
The Liberal Democrat leader, whose party is the junior partner in Conservative Prime Minister David Cameron's coalition government, said sporting events should be part of a new package of EU sanctions against Moscow.
"You can't have this - the beautiful game - marred by the ugly aggression of Russia on the Russian-Ukrainian border," Clegg told the Sunday Times newspaper.
"Not only would Vladimir Putin exploit it, I think it would make the rest of the world look so weak and so insincere about our protestations about Putin's behavior if we're not prepared to pull the plug.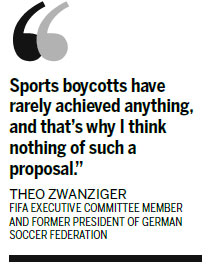 "He can't constantly, you know, push the patience of the international community beyond breaking point, destabilize a neigh-boring country, protect these armed separatists in the east of Ukraine and still have the privilege and honor of receiving all the accolades in 2018 for being the host nation of the World Cup."
Clegg's call echoes that of several German politicians earlier this month, although the idea was quickly rejected by soccer officials.
"Sports boycotts have rarely achieved anything, and that's why I think nothing of such a proposal," Theo Zwanziger, a FIFA executive committee member and former president of German soccer body DFB, told Handelsblatt Online.
The European Union on Saturday agreed new sanctions on Russia's intelligence chiefs, as it hardens its attitude to Moscow following the crash of flight MH17.
The EU and US have accused rebels of using a missile provided by Russia to shoot down the Malaysian Airlines jet on July 17, killing all 298 people on board. Russia has denied the allegations.
(China Daily 07/28/2014 page23)