Bradley Wiggins is turning his back on "cut-throat" road racing and has ruled out competing in any more grand tours, the 2012 Tour de France champion said on Thursday.
Wiggins, who won a silver medal in team pursuit at the Commonwealth Games on Thursday, will instead focus on the track where he hopes to compete at the Rio de Janeiro Olympics in 2016.
"I've kind of done the road now. I've bled it dry," the 34-year-old told the BBC.
"The road is quite cut-throat. The track feels more like a family and a closer-knit group of people.
"That will probably be it for the grand tours. I can't imagine doing that now."
Wiggins, a four-time Olympic gold medalist, has not raced a grand tour since pulling out of last year's Giro D'Italia.
He was left out of Team Sky for this year's Tour de France in favor of 2013 winner Chris Froome, with whom he has had a frosty relationship in the past.
Wiggins hinted his time at Sky might be coming to an end.
"I've had my time there and had success with it," said Wiggins. "Things move on and it's natural evolution. Team Sky has become so competitive now and it's all about winning grand tours.
"It's whether they've got a place for an ex-Tour winner to use the racing to prepare for the track."
Wiggins, who won Olympic time trial gold in 2012 on the road, intends to focus his efforts in the velodrome where he won three golds in the individual and team pursuit events in Athens in 2004 and Beijing four years later.
"The track is where it all began for me," he said. "I'd love it to finish it on a high there."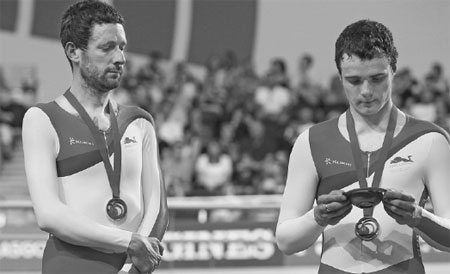 England's Bradley Wiggins (left) stands with teammate Steven Burke after receiving their silver medals in Thursday's 4000m team pursuit finals at the Commonwealth Games in Glasgow, Scotland. Reuters
(China Daily 07/26/2014 page8)