Charities in China have suffered from a loss of public trust in recent years, but Yao Ming remains determined to carry on his work and rebuild confidence in "good causes".
"The year 2008 was a major point for China's charity causes. The Wenchuan earthquake drew the public's attention to charities and their knowledge about charities greatly improved," Yao told China Daily before a media conference announcing his fourth Yao Foundation Charity Game in Dongguan.
"However, scandals in recent years have caused a crisis of public trust. Luckily, we have stood the test."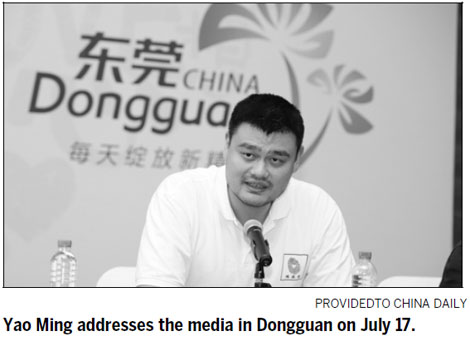 The ardent charity promoter said charities in China still lack legal guidelines.
"We need laws and regulations to draw a clear dividing line between responsibilities and rights. Loopholes emerge when the line is blurred," Yao said, calling for clear-cut, specific laws and regulations to instruct Chinese charity organizations.
For example, Yao Foundation staff found it difficult to explain to government officials that the games it hosts are for charity and not commercial reasons, he said. Fortunately, it has the backing of the China Youth Development Foundation, which helps the event's transparency and ensures ticket sales and donations raised by the game go to charity.
The CYDF initiated the Hope Project, which by 2013 had raised 9.75 billion yuan ($1.56 billion), sponsored more than 4.9 million needy students from rural families and built 18,335 Hope primary schools.
The Hope Project underwent a structural change in 2005, after the central government issued a policy to waive the textbook costs and incidental expenses of students in impoverished rural areas during their first nine school years and also provided living allowances to boarding students.
"Now that the kids' basic needs for going to school have been satisfied, what we need to do is improve the curriculum for students' all-round development. So we have been helping Hope primary schools give English, music, art, PE and computer science lessons," said Tu Meng, secretary-general of the CYDF.
Meanwhile, Yao has introduced young rural basketballers to a grander stage - his star-studded charity game.
Some lucky participants in the Yao Foundation Hope primary school basketball season performed during a break in last-year's charity game in Beijing. That tradition will continue in Dongguan, with 20 players selected from this year's 1,200 Hope season participants competing against 20 Dongguan youngsters.
"Our society has given me a lot and I want to do something in return for that," Yao said.
xujingxi@chinadaily.com.cn
(China Daily 07/24/2014 page23)