Woods blames mental mistakes for poor Open showing
Tiger Woods lamented a succession of errors after the former world No 1 slumped to a one-over-par 73 in the third round of the British Open on Saturday.
The decision by the organizers to bring forward the start time to avoid the heavy rain and thunderstorms that were forecast proved a good one as the softer fairways and greens and the still wind led to a total of 17 sub-70 rounds being carded.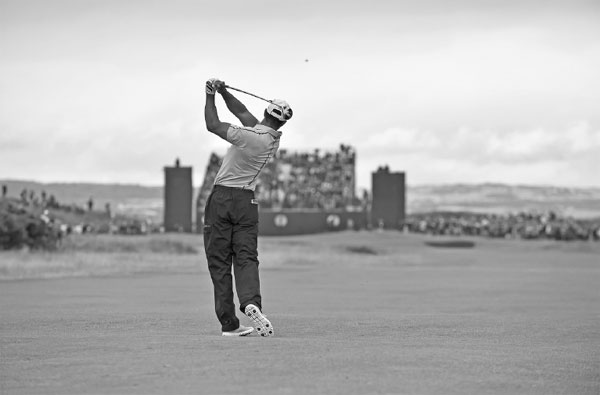 Tiger Woods plays from the sixth fairway during his third-round 73 on Saturday at the British Open at Royal Liverpool, Hoylake, England. Paul Ellis / Agence France-Presse
Woods, however, was unable to take advantage as he slipped to a tie for 58th position at 219, three over par. That was a massive 19 strokes behind runaway leader Rory McIlroy, who carded a four-under 68 for a three-round total of 16-under 200, six clear of Rickie Fowler.
"I made a lot of mistakes," Woods said at Royal Liverpool. "On top of that I missed a lot of shots for opportunities for birdies."
The 14-time major champion made inroads on par at the first, ninth, 10th, 11th and 16th but his progress was halted by a double-bogey six on the second, a triple-bogey seven on the seventh and another dropped shot on the par-three 15th.
Woods is competing in only his second tournament since undergoing back surgery in March and believes his game is going in the right direction.
"I'm starting to get the flow of the round, the flow of playing again," said the 38-year-old. "But you just can't run up high scores like that and expect to contend - especially when the conditions are this benign.
"Most of the scores are three-under-par or better today and I certainly didn't do that."
Woods, who is now ranked seventh in the world, took time out to pay tribute to Scottish coach Bob Torrance, who died on Friday at the age of 82.
"I've known Bob a lot over the years," he said. "Even from my amateur days when I came over here. He was fantastic to me. We've had a lot of great conversations about golf. It was always fun picking his brain about the game. I'm going to miss him very much."
Woods came to Royal Liverpool Golf Club with ambitions of winning for the second time on the par-72 layout and taking his haul of majors to 15, three shy of the record held by Jack Nicklaus.
However, a fine opening round of three-under 69 was wasted on Friday when a 77 meant that he barely made the cut, with a last-gasp birdie.
That was followed by a round of 73 that extinguished his hopes on Saturday and left him scratching his head as to why his putting touch had deserted him.
"I made a lot of mental mistakes; I've made two doubles (bogeys) and two triples but on top of that I missed a lot of shots for opportunities for birdies and consequently I'm three over," said Woods.
Many onlookers doubted Woods' chances coming into a tournament he won in style at Hoylake in 2006, the 12th of his 14 majors, but he has not won a major since the 2008 US Open.
Recent back surgery left him with only two competitive rounds of golf at the Congressional earlier this year, where he missed the cut, although he remained happy to be back playing at the highest level.
"I'm starting to get the flow of the round, the flow of playing again ... but I've just made too many mistakes," said Woods.