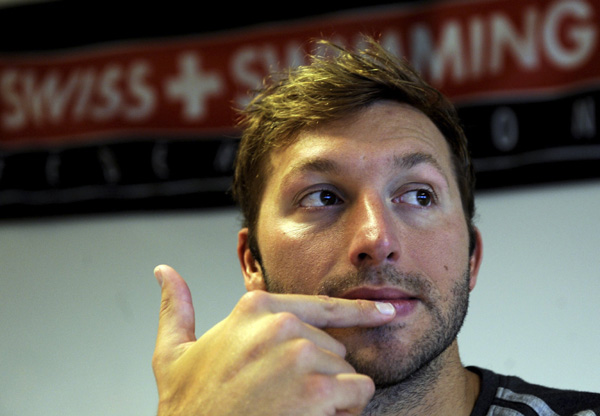 Australian swimmer Ian Thorpe gestures during a news conference in the southeastern village of Tenero in this March 16, 2011 file photo. [Photo/Agencies] 
SYDNEY - In a week that saw Australia's highest-profile sporting icon, Ian Thorpe, 'come out' on television, gay marriage is back on the national agenda, with Liberal Democratic senator David Leyonhjelm hoping to push the divided government to allow a 'conscience vote' on the issue.
It certainly couldn't be said Australia's national jaw dropped with a resounding thud, this week, when in a paid interview Thorpe revealed what most of the country already knew - that, in his own words, he was 'not straight.'
However the reverberations, not just for Thorpe's own recently troubled life, but for the wider social-equality issues still unresolved in Australia's political life, will be felt for a few years to come.
It may be no coincidence that the newly-elected Libertarian senator -- already proving himself that rare Australians political commodity of idealism tempered by rationalism -- has trumped a distracted parliament with his own Gay Marriage Bill, due to be tabled in Canberra this week.
Not to be confused with the ruling Liberal-National coalition, Leyonhjelm is a member of the Australia's fringe Liberal Democratic Party (LDP) founded in 2001.
The minority player in Australia's two-party electoral system can be broadly described as a libertarian party, while the relatively unknown Leyonhjelm (previously an agribusiness consultant), was elected to the Senate at the 2013 federal election touting lower taxes and regulations and more 'liberty.'
However, as proven last year in the same parliament, such a bill cannot succeed unless Prime Minister Tony Abbott's Coalition government inexplicably reverses its position or allow its members 'conscience vote' -- where elected members can voice their personal views rather than that of its party's official position.
He told Xinhua, Monday, "If we accept the view that marriage is a private matter between consenting adults, the only choice we each need to make is whether to participate and which variety of marriage to embrace. And for those who perform marriages, religious or civil, there should be no obligation to marry those of whom they disapprove."
It will be no easy ride. Australia is deeply divided on the issue despite breakout moments such as Thorpe's high-profile declaration.
National president of Rise Up Australia Party, Daniel Nalliah, describes Rise Up Australia as staunchly opposed to same-sex marriage "because we are committed to protecting the traditional family unit with nurturing relationships between husband, wife and children."
"Research confirms that this model provides the best outcomes for the child and for society as a whole." Rise Up notes in its policy position, pointing to the definition of marriage, in Australia's Marriage Amendment Act 2004, means the union of a man and a woman to the exclusion of all others, voluntarily entered into for life.
Federal legislation makes it clear that if the states pass any laws in relation to same-sex marriage they will be invalid.
The Marriage Act would firstly have to be amended and then Federal Parliament would have to pass a law making same-sex marriage legal.
A bill to amend this act during the Prime Ministership of Julia Gillard was voted down by an overwhelming majority in the House of Representatives in 2012.
But Leyonhjelm is undeterred.