After years of denying rumors about his sexuality, Australian swimming great Ian Thorpe has revealed he is gay in an interview set to be broadcast on Sunday.
The five-time Olympic gold medalist makes the revelation in an interview with British commentator Michael Parkinson, due to be aired by Australia's Channel 10, reports said.
Australia's Sunday Telegraph newspaper said the 31-year-old also describes his years of battling with depression in the emotional interview recorded last month.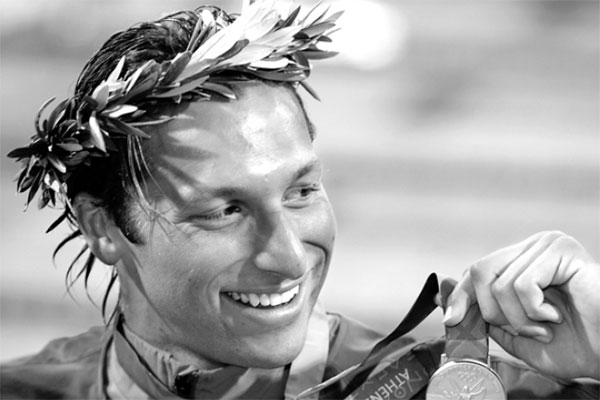 Ian Thorpe poses with his gold medal after winning the 200m freestyle at the 2004 Olympics in Athens. Mark J. Terrill / Associated Press File
His decision to come out as gay attracted a flurry of supportive comments.
Fellow Olympic swimmer Stephanie Rice tweeted: "Thorpie is and always will be a superstar in my eyes."
Another tweeter said: "I'm sad that there are people - not just great sportspeople - who feel they have to hide who they are every day. I hope Thorpie feels free."
Olympic diver Matthew Mitcham, who revealed he was gay in 2008, said he could "totally understand how difficult this whole process has been for him".
"I really hope this process gives him some peace and that the media and the public give him the same respect and the same overwhelming support I received in 2008," he told the Telegraph.
Australian Marriage Equality national director Rodney Croome praised Thorpe for coming out.
"(It) has clearly been a difficult struggle for him and I hope Australians appreciate the trust and confidence he has placed in us all by revealing he is gay," Croome said.
"Nothing has changed about Ian Thorpe. He is still a great Olympian and a great Australian," he said.
The Gay and Lesbian International Sports Association also paid tribute to Thorpe, acknowledging the "psychological pain" he endured while keeping his sexuality a secret.
"For whatever his reasons, which must be respected, he felt unable to be open about his sexuality during the height of his sporting career, which has come at a huge personal cost," president Barry Taylor said in a statement.
The swimmer - known by his nickname 'Thorpedo' - retired in 2006 after a glittering career in which he ruled the pool from 1998 to 2004.
He won nine Olympic medals and 11 world titles and set 13 long course world records.
Thorpe returned to racing in 2011 but had a string of disappointing results leading up to his ultimately unsuccessful London Olympic bid the following year.
Since calling it quits for a second time in 2013, Thorpe has endured several health setbacks.
In February he began treatment for depression after a mixture of painkillers and anti-depressants left him disoriented on a Sydney street.
He was hospitalized for more than three weeks in April after battling serious infections for shoulder surgery.
At one point there were rumors he would lose the use of his left arm, although they proved unfounded.
(China Daily 07/14/2014 page23)