RIO DE JANEIRO - Robin van Persie scored one of the most eye-catching goals of the World Cup with a diving header, and James Rodriguez blasted in one of the tournament's most spectacular after controlling the ball with his chest and volleying home from outside the area.
The world will be treated to quite a spectacle if Germany and Argentina - maybe another superb goal from Lionel Messi? _ can match those memorable goals in Sunday's final at the Maracana Stadium.
But before the final kicks off, here's a look back at some of the best goals of this year's World Cup, in no particular order:
Netherlands striker Robin van Persie against Spain, first round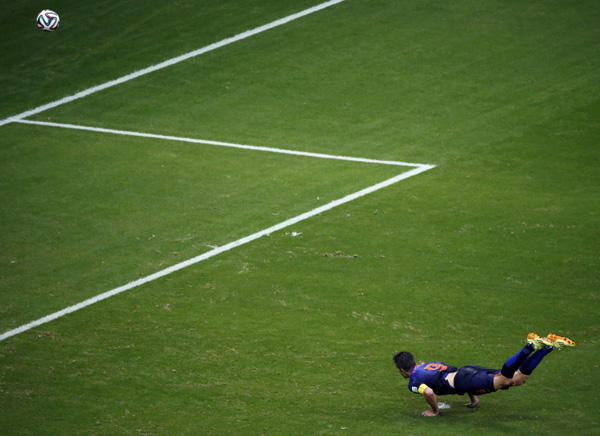 Robin van Persie of the Netherlands heads to score against Spain during their 2014 World Cup Group B soccer match at the Fonte Nova arena in Salvador June 13, 2014.  [Photo/Agencies]
Van Persie's goal started with a 40-yard pass from Daley Blind, who launched the ball from just inside the halfway line. With Van Persie running through the middle of the Spain defense, the charging Manchester United forward flung himself forward to meet it inside the area, diving at full stretch and sending his delicate header sailing over a helpless Iker Casillas in goal.
"I saw Casillas standing a bit in front of the goal, so I decided to go for a loop," Van Persie said. "It just could not have been more perfect. These kinds of goals are scored once in a lifetime."
The goal came in the 45th minute, making the score 1-1. The Dutch then poured in four more to rout the defending champions 5-1.
Colombia midfielder James Rodriguez against Uruguay, second round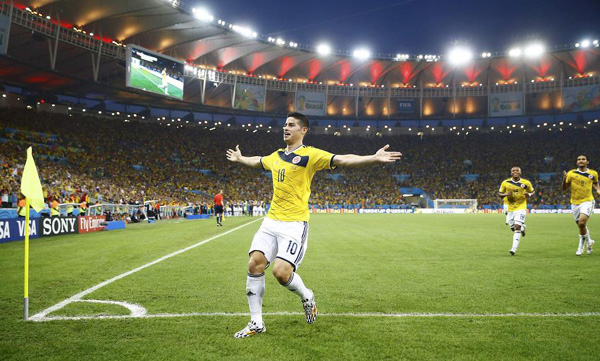 Colombia's James Rodriguez celebrates his goal against Uruguay during their 2014 World Cup round of 16 game at the Maracana stadium in Rio de Janeiro June 28, 2014.  [Photo/Agencies]
Rodriguez provided one of the best goals of the tournament with a swivel-and-volley move that left fans gasping in delight. He chested the ball down with his back to goal well outside the area and in one fluid motion turned around and fired a left-foot volley that went off the underside of the crossbar and into the net.
Rodriguez scored a second goal in the same match, and Colombia reached the quarterfinals with a 2-0 victory.
"From what I've seen so far, he's is the best player of the World Cup," Uruguay coach Oscar Tabarez said after the match.
Argentina midfielder Lionel Messi against Iran, first round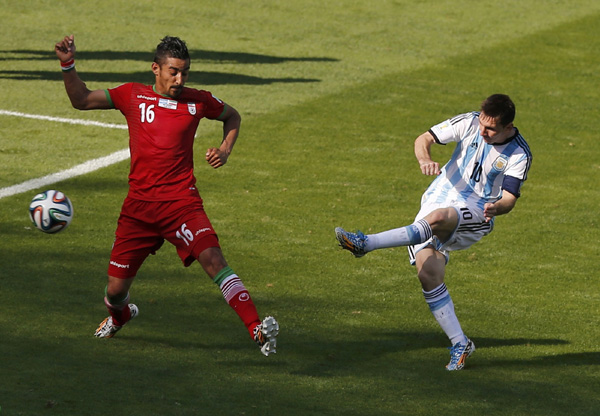 Argentina's Lionel Messi (R) scores a goal past Iran's Reza Ghoochannejhad during their 2014 World Cup Group F soccer match at the Mineirao stadium in Belo Horizonte June 21, 2014.  [Photo/Agencies]
Messi has scored scores of goals in his career, but it was a late strike against Iran that stands out at this year's World Cup for both its beauty and its importance.
The Argentina forward used the outside of his foot to scoop the ball to the left, took three quick steps and shot just before Iran forward Reza Ghoochannejad could stretch his leg out to block it.
"Only Messi could score that goal," Iran coach Carlos Queiroz said. "He was cool, calm, he found the right moment, the right space. Because only a player with that dimension has the ability to strike a goal like that."
Brazil defender David Luiz against Colombia, quarterfinals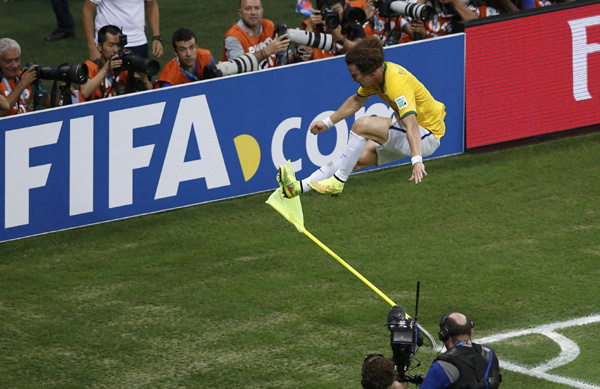 Members of the media record Brazil's David Luiz celebrating scoring his team's second goal against Colombia during their 2014 World Cup quarter-finals at the Castelao arena in Fortaleza July 4, 2014.  [Photo/Agencies] 
As a defender, Luiz is more known for stopping goals. But the Brazilian scored a beauty in Fortaleza.
Lining up 35 meters (yards) out, the 27-year-old Brazilian side-footed the ball with his right boot, sending it over a defensive wall of four and beyond the reach of Colombia goalkeeper David Ospina.
It was a special goal, and it left many wondering how he was able to get such precision off the side of his foot.
"I think it's genetic. I was born with legs like that," Luiz said, spreading his hands apart like two feet sticking out toward opposite sides. "In Brazil, they call it `10-to-2.'"
Australia forward Tim Cahill against the Netherlands, first round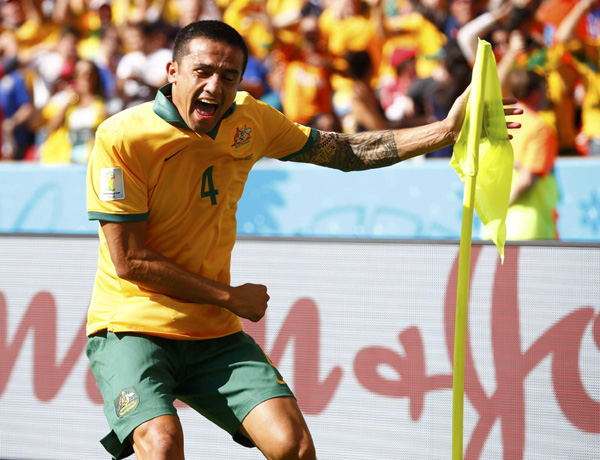 Australia's Tim Cahill celebrates after scoring a goal during the 2014 World Cup Group B soccer match between Australia and Netherlands at the Beira Rio stadium in Porto Alegre June 18, 2014.  [Photo/Agencies]
Shortly after Australia fell behind 1-0, Cahill ran onto to a looping pass from Ryan McGowan and hit a perfectly-timed volley with his weaker left foot from about 11 yards out.
Netherlands goalkeeper Jasper Cillessen jumped for it, but soon just turned around to pick it out of the net.
"When you look at your idols like (Marco) Van Basten, even Robin van Persie, these are the kind of goals they score," Cahill said. "That's what football is all about, these moments, and what better place to do it than the home of football in Brazil."
United States forward Clint Dempsey against Ghana, first round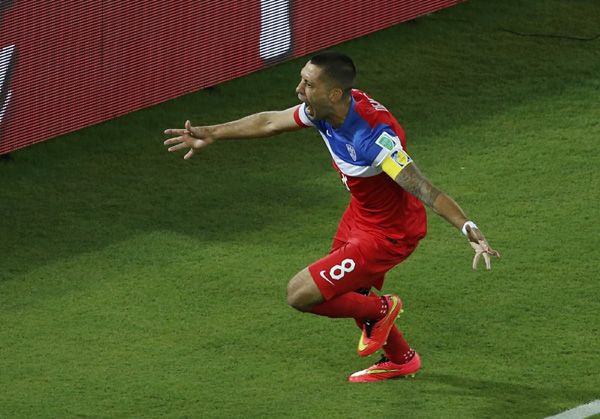 Clint Dempsey of the U.S. celebrates his goal against Ghana during their 2014 World Cup Group G soccer match at the Dunas arena in Natal June 16, 2014.  [Photo/Agencies]
Dempsey scored his first goal of the tournament only 30 seconds into the match, the fifth fastest goal in World Cup history.
DaMarcus Beasley started the buildup with a pass to Jermaine Jones, who fed it to Dempsey inside the penalty area. Then, after a nifty move to split Ghana defenders John Boye and Sulley Muntari, Dempsey sent the left-foot shot past goalkeeper Adam Kwarasey, where the ball bounced off the post and in.
Switzerland winger Xherdan Shaqiri against Honduras, first round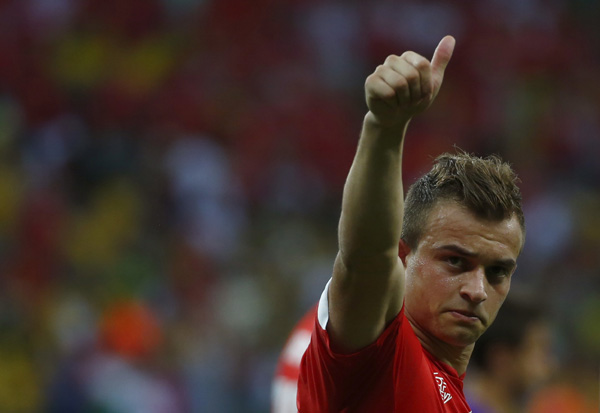 Switzerland's Xherdan Shaqiri gives a thumbs up after the 2014 World Cup Group E soccer match between Honduras and Switzerland at the Amazonia arena in Manaus June 25, 2014.  [Photo/Agencies]
Shaqiri collected the ball outside the top right corner of the area, dribbled to avoid a pair of defenders and then launched a curling shot toward the top left corner of the net that went in off the underside of the crossbar.
Honduras goalkeeper Noel Valladares came nowhere near it, and then let in two more from Shaqiri in a 3-0 loss.
"He is short. He is fast. He is mobile," Switzerland captain Gokhan Inler said of Shaqiri a few days later. "The good thing for us is that he can't be figured out easily."
Colombia midfielder James Rodriguez against Japan, first round
After qualifying for the second round after only two games, Rodriguez was on the bench resting for the third group match against Japan. But when he came on for the second half, he scored another highlight-reel goal.
The Colombia playmaker finished off a sublime individual display by twisting and turning through a tired Japanese defense and chipping in an astonishing goal with a minute left.
"It's incredible to see," Colombia teammate Jackson Martinez said. ``He is playing a very important role in the World Cup."
Netherlands forward Arjen Robben against Spain, first round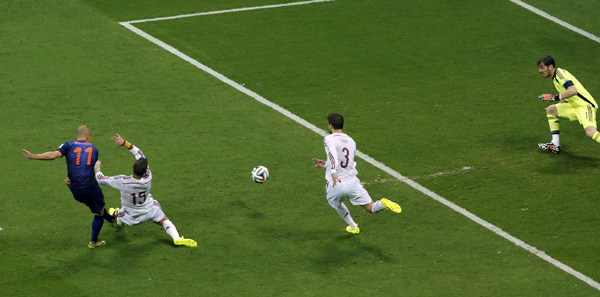 Arjen Robben of the Netherlands (L) scores past Spain's Sergio Ramos, Gerard Pique and goalkeeper Iker Casillas during their 2014 World Cup Group B soccer match at the Fonte Nova arena in Salvador June 13, 2014.  [Photo/Agencies]
Robben had already scored one goal in the rout over Spain, but his second was done with awe-inspiring speed.
The Netherlands forward collected a long pass from Daley Blind and then out-raced Spain defender Gerard Pique down the field. As he approached the area, Iker Casillas came out to cut down the angle, but the Spain goalkeeper got himself tangled up as Robben twisted around before scoring with a shot past both Pique and Sergio Ramos.
"This is just pure enjoyment," Robben said. "I'm top fit this season and this is a beautiful confirmation of that."
Germany forward Andre Schuerrle against Algeria, second round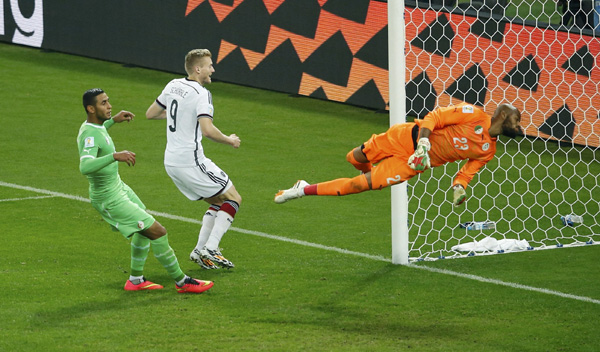 Germany's Andre Schuerrle (C) scores against Algeria during their 2014 World Cup round of 16 game at the Beira Rio stadium in Porto Alegre June 30, 2014.  [Photo/Agencies]
Schuerrle provided one of the most subtle of the top goals with his heel, but it was the one that finally gave Germany the lead in extra time against Algeria.
Thomas Mueller provided a cross from the left flank that was slightly behind Schuerrle. The Germany forward dragged his left leg and backheeled the ball into the far corner.
Algeria goalkeeper Rais M'Bolhi had no chance, and Germany moved on.