Every day at the World Cup, hundreds of stories come to the attention of the world - and far too often, the funniest, saddest and most shocking get lost in the noise.
That's what we're here for: keeping our ears to the ground to make sure that even if you don't see every story of the World Cup, at least you don't miss any of the good bits.
Ghana's crazy World Cup bonus demand to be turned into Hollywood movie
African teams had a good World Cup in lots of ways - Algeria and Nigeria both made it to the last-16, for example, and both showed admirable spirit on their way there.
Other teams haven't fared so well. The Cameroon FA are investigating seven of the players for match fixing, for example. And Ghana? Well, they went out early - despite almost beating Germany in an unforgettable match - but almost refused to play until they'd been paid their bonuses in cash.
The led the country's president to organise a shipment of $3 million in cash to be flown out to Brazil. The proposed film will apparently follow the misadventures of the courier tasked with the job of getting the notes out to the players.
Needless to say, the courier will probably have all manner of problems to overcome - most likely saving a poverty-stricken orphan from a favela whilst simultaneously winning the heart of a beautiful Colombian photographer following the tournament - before arriving in the tunnel, moments before kick-off, to persuade the stars to go out onto the pitch.
Luis Suarez bottle openers taking world by storm
There was a famous lager advert in the 1980s in which an Australian advised a man in need of a beer to "get your laughing gear around that!"
Well - get your laughing gear around this: Luis Suarez's bite on Giorgio Chiellini has prompted a manufacturer of beer bottle openers to launch a special "Suarez's teeth" opener. You can use the Uruguay striker's laughing gear to open your booze, as seen in these pics.
It turns out that a Suarez bottle opener had already been produced, one which was incorporated into a keyring to "commemorate" - if that's the right word - the bite on Chelsea's Branislav Ivanovic last year.
And coming soon: Suarez immortalised in Barcelona colours for biting Cristiano Ronaldo / Gareth Bale / someone else in La Liga next season. You saw it here first: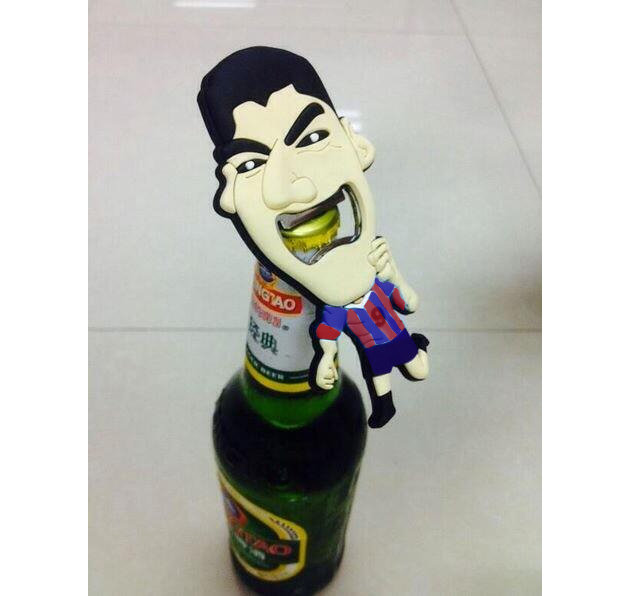 Colombians given public holiday to watch Brazil match
Back in the days when England used to go deep into international football tournaments, there was always a huge debate sparked when a match had to be played during the working day. Publications such as the Financial Times would print stories about how the economy would be stung to the tune of £2.5 billion by people bunking off work early, calling in sick or watching the game on iPlayer at their desks, while politicians would urge both employers and employees to act responsibly and cut each other a bit of slack.
In Colombia, that just ain't how they roll. Colombia v Brazil kicks off on Friday afternoon - so the President just orders that Friday afternoon is a public holiday. Boom. Just like that. Job done. No fuss - down tools and watch the football.
Absolutely brilliant.
Here's how Algeria and Greece fans greeted their team on their return home
Algeria went bananas on greeting their wonderfully exciting team back home. Nice.
Greek fans were even better as they greeted Theofanis Gekas, whose missed penalty cost his nation a place in the World Cup quarter-finals. No sarcastic pizza adverts for him; just a huge group of fans cheering him and telling him not to worry about it, and a lady giving him a bunch of flowers.