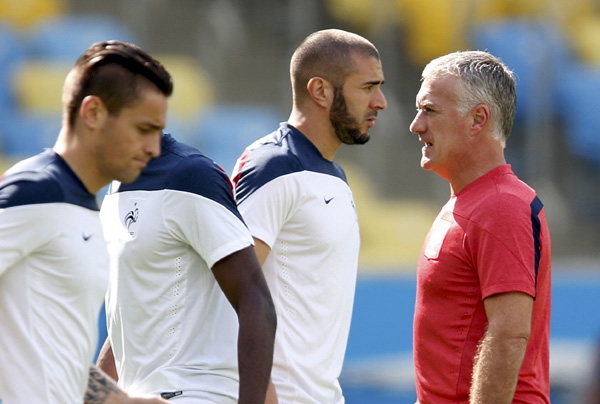 France's national soccer team head coach Didier Deschamps (R) and striker Karim Benzema (2nd R) attend a training session at Maracana stadium in Rio de Janeiro July 3, 2014. France will face Germany in a 2014 Brazil World Cup quarterfinal match on July 4, 2014.  [Photo/Agencies]
RIO DE JANEIRO - France coach Didier Deschamps insisted that his team have no reason to fear Germany when the sides clash in the World Cup quarter-finals at the Maracana Stadium on Friday.
"There is no apprehension or fear. There is no reason for us to feel any. Germany are a solid side with lots of experience of this level but this game will be a pleasure for us and we are preparing ourselves as well as possible for it," Deschamps told a press conference in Rio de Janeiro on Thursday.
The match will be the first competitive meeting of the nations since West Germany beat France 2-0 in the 1986 World Cup semi-finals, four years after they also triumphed on penalties when the teams met at the same stage of the competition in Spain.
Friday's match offers France the opportunity to gain revenge, though Deschamps says that Germany are the strongest side they have faced yet at these finals.
"We have no pressure on us, just excitement at being able to play a World Cup quarter-final. We will have a new page of our history to write and we will try to make sure it is a beautiful one."
France began the competition by scoring eight goals in group wins over Honduras and Switzerland, while Germany started with a thumping 4-0 victory against Portugal.
However, Germany's progress has been tougher since, and Joachim Loew's side needed extra time before beating Algeria 2-1 in the last 16.
That may explain why the Germany's general manager Oliver Bierhoff labelled France as the favourites to win Friday. Deschamps rejected his comments though.
"When people were picking out their favourites before the competition, Germany were among them," he said.
"Their squad has been practically unchanged since the last two major tournaments. They always reach the latter stages.
"They are a solid side with excellent individual talents who like to have the ball and impose their game on the opposition," added Deschamps, whose own side edged past Nigeria 2-0 in the last 16 on Monday.
"The level of adversity you face increases as the competition goes along. I have a lot of respect for Nigeria but Germany are a much better side, on paper at least.
"We have to keep doing what we have done well until now but the demands now will be greater and we need to be capable of dealing with that too."
Meanwhile, goalkeeper and captain Hugo Lloris urged Les Bleus to seize their chance, mindful perhaps of France's last appearance at this stage of a major tournament.
At the 2012 European Championships, with Laurent Blanc in charge, France were outclassed by Spain in the quarter-finals, and they have not reached the last four of any competition since the 2006 World Cup in Germany.
"Everyone is excited. We will play our game and do everything to come out of the match with as few regrets as possible," said Lloris.
"There may be moments where they put us under pressure but we are capable of posing them problems too."
Deschamps, whose side trained on the Maracana pitch on the eve of the game, is expected to welcome Liverpool centre-back Mamadou Sakho back into his starting line-up alongside Raphael Varane after a hamstring problem kept him out of the Nigeria game.
That would mean Laurent Koscielny returning to the bench. He may be joined by Arsenal colleague Olivier Giroud, who could make way in attack for Antoine Griezmann.