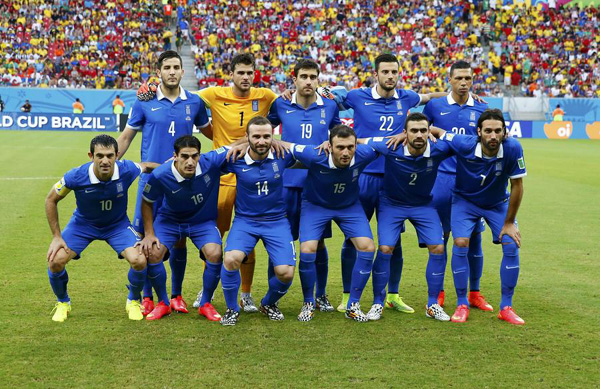 Greece's national soccer players pose for a team photo before their 2014 World Cup round of 16 game against Costa Rica at the Pernambuco arena in Recife June 29, 2014. [Photo/Agencies]
In a World Cup whose subplots have largely been dominated by biting, diving and poor decisions by referees, it's nice to hear an uplifting storyline about something taking place off the pitch for a change.
In a truly world class move, Greece's vanquished soccer team has refused to accept their World Cup bonuses. Instead the players representing the cash-strapped Mediterranean nation have requested that the money from their bonuses be put towards building a new training center for the national team.
The squad presented their request in a signed letter addressed to Greek Prime Minister, Antonis Samara, after they qualified for the round of 16 for the first time.
"We do not want extra bonus, or money. We only play for Greece and its people," read an excerpt from the letter. "All we want is for you to support our effort to find a land and create a sports center that will house our National Team."
The Greek players' selfless refusal to accept their bonuses and instead put them towards bettering their future as a soccer notion is obviously commendable. But more so when you consider that they're already among the least well-paid players in Europe. When juxtaposed with the corruption and embezzling by greedy politicians that have added to Greece's mounting economics woes, the true magnitude of the Greek players' gesture becomes even more apparent.
Ten years ago, the Greeks surprised the world by winning the European Championship. However since Greece was hit by a crippling financial crisis in 2009, the program has seen its budget slashed. They've also long lacked the kind of sophisticated, modern training facilities common for most major European teams.
It's not exactly clear how much money the team members will be forgoing. But prior to Greece reaching the round of 16, officials from the Greek football federation indicated a bonus for reaching the knockout round of the World Cup would be in the region of $1.37 million.
Greece pulled off a surprise late upset against Cote d'Ivoire to reach the round of 16 before being knocked out by Costa Rica on penalty kicks.
"Greeks are proud of our national team," said Prime Minister Samaras in a telegram he sent to the team. "Congratulations to all the boys."