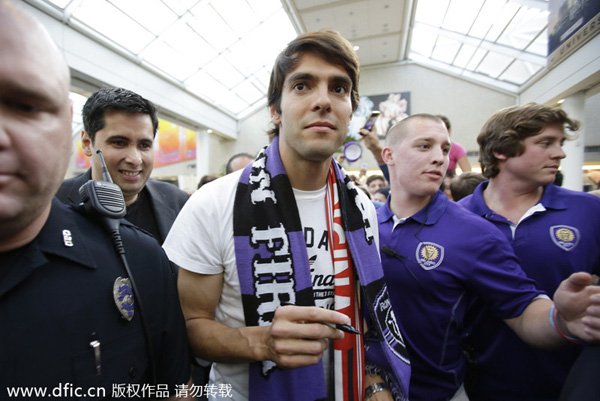 Brazilian soccer star Kaka, center, surrounded by security and police officers, makes his way through a crowd of fans at Orlando International Airport, in Orlando, Fla., June 30, 2014. Kaka is the first designated player to sign with the Orlando City Soccer Club and the team will begin play in Major League Soccer in 2015. [Photo/IC]
WASHINGTON - After a lengthy period of rumors and hints, Kaka officially signed a multi-year contract with Orlando City, becoming the club's first Designated Player. Per league policy, terms of the deal were not disclosed.
The 32-year-old Brazilian's signing is "the next chapter in what has been a long-standing relationship between Orlando City owner Flavio Augusto da Silva and Kaka," according to a club news release. In the release, the club trumpets Kaka's success on the field and off it - noting he has more followers on social media than any US athlete in addition to being a World Cup winner.
Kaka was free to leave AC Milan after the club failed to qualify for European play. The attacking midfielder might not be able to replicate the form he showed when he won the 2007 Ballon d'Or, but the club is confident he will help in its inaugural Major League Soccer season.
"Today is the day we put the MLS on notice, we're not here to make up the numbers, we're here to win," President and owner Phil Rawlins said at the Tuesday news conference.
Currently playing in third-division USL PRO, Orlando City will begin play as a MLS team in 2015. Until then, Kaka is set for a loan stint at hometown Sao Paulo.
"Coach (Adrian) Heath is doing a great job with the team, and I know he will do a great job in MLS too," Kaka said at the news conference.
Until he starts playing for the MLS club in January 2015, Kaka is expected to play on loan to Sao Paulo.
New York City FC, who have recruited Spain's David Villa, and Orlando will become the 20th and 21st teams competing in MLS in 2015.