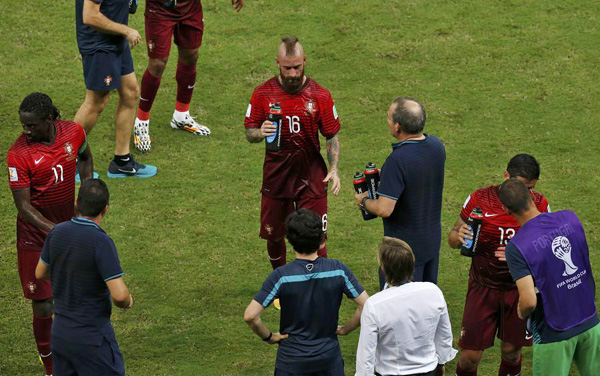 Portugal's Nani (L), Raul Meireles (C) and Ricardo Costa (2nd R) take a water break during their 2014 World Cup G soccer match against the US at the Amazonia arena in Manaus, June 22, 2014. [Photo/Agencies]
MANAUS, Brazil - In the 39th minute of the United States' clash with Portugal in Manaus, midfielder Jermaine Jones limped off to get some medical attention for his tattooed knee. Referee Nestor Pitana appeared to use the break in play to call a discretionary water break - the first time this has ever happened at a World Cup.
Due to the heat and humidity at several venues in this tournament, officials are permitted to grant one short hydration break in each half.
Furthermore, a Brazilian judge has ordered mandatory water breaks every 30 minutes if the temperature reaches and exceeds 90 Fahrenheit.
According to the FIFA website, the temperature in the Amazonian stadium for this group G clash reached 86 Fahrenheit, with 66% humidity.
Despite similar temperatures during England's clash with Italy in Manaus last weekend, no water break was given. This lack of respite clearly had its effect on players - Andrea Pirlo was reduced from his normal walking pace to a slightly slower walking pace.