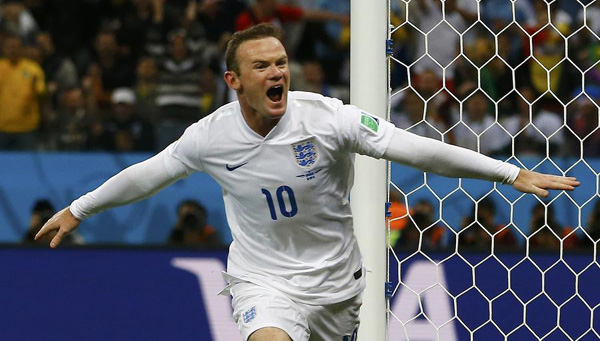 England's Wayne Rooney celebrates scoring against Uruguay during their 2014 World Cup Group D soccer match at the Corinthians arena in Sao Paulo, June 19, 2014. [Photo/Agencies]
SAO PAULO - Wayne Rooney finally delivered his first goal for England on the big stage, coming through despite all the criticism about his lack of production at this World Cup - and it wasn't enough.
Rooney's equalizer in the 75th minute Thursday gave England hope. Ten minutes later, Luis Suarez stole the headlines with his second goal, giving Uruguay a 2-1 victory and pushing England to the brink of elimination.
While Rooney did his part for the Three Lions at last, he still left Itaquerao Stadium in defeat. He slowly walked to the middle of the field to trade jerseys, then departed.
Early, Rooney leapt several feet in the air and had a perfect first chance to make a name for himself in the World Cup, but his header hit the bar. He had another opportunity early in the second half, when goalkeeper Fernando Muslera - dressed in glaring head-to-toe neon orange - made a sliding stop on Rooney's shot from point blank.
That left the 28-year-old Rooney with 28 career World Cup shots, just eight on target.
Then, he found the back of the net.
Rooney was sprinting toward the net and scored from 3 yards out off of his left foot on a low pass from Glen Johnson. That sent Rooney into a mad celebration as he pointed to the sky, blew kisses and embraced Johnson before being chased down by others.
With one last chance on a corner in the fifth minute of injury, Rooney's ball went off a teammate.
It was Rooney's 40th goal in 94 international appearances, but only his second in the past eight games.
Rooney has had the support of England coach Roy Hodgson, who insists there always will be one player who gets extra scrutiny.
Hodgson celebrated the goal with an emotional outburst as he jumped up and down on the sideline, arms raised to the sky.
The Manchester United striker out-jumped Uruguay defender Martin Caceres on Steven Gerrard's free kick in the 31st minute, but his header hit exactly where the post and upright meet.
While Rooney did make the cross that set up Daniel Sturridge's equalizing goal in a 2-1 opening loss to Costa Rica on Saturday, three of his own shots went off target.