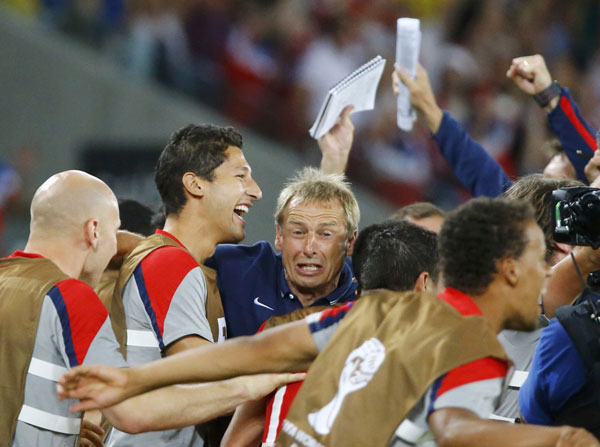 US coach Juergen Klinsmann (C) celebrates with his team after the 2014 World Cup Group G soccer match between Ghana and the US at the Dunas arena in Natal June 16, 2014. 
 [Photo/Agencies]
NATAL, Brazil - Clint Dempsey scored one of fastest goals in World Cup history and John Brooks scored the game winner on a header in the 86th minute of a 2-1 US victory over Ghana, which had knocked the Americans out of the previous two World Cups.
Dempsey's goal came on a low shot just 32 seconds into the match. The lead held until Ghana's Andre Ayew leveled in the 82nd minute. Ayew's goal appeared to have stolen the victory from the US, until Brooks' goal off a corner from Graham Zusi.
Dempsey' goal made him the first US player to score in three different World Cups and was the fastest ever scored by an American in the tournament. The US is now tied with Germany atop of Group G.