Shane Battier called it one of the biggest honors of his life.
The Miami Heat forward was announced on Saturday as the winner of the league's Twyman-Stokes Teammate of the Year award, which recognizes self-less play, leadership, work as a role model to other players and commitment. The NBA will make a $25,000 donation to The Battier Take Charge Foundation, which raises money to help provide children with educational and leadership opportunities.
Battier received 67 first-place votes and appeared on 209 ballots cast by NBA players in all, finishing as a runaway winner of the award. Charlotte's Al Jefferson was second and Dallas' Dirk Nowitzki was third in the balloting, in which players could not vote for a teammate.
"Although the guys in the locker room couldn't cast any votes for me, I'd like to think they would've voted for me if they could," Battier said. "I hope they know that I love them and I appreciate them and everything I do I try to make that locker room better and this team better."
Battier was second to Chauncey Billups in voting for the teammate award last season, when it was presented for the first time. Battier is in his 13th and presumably final season. A two-time NBA champion and a two-time member of the league's All-Defensive team, he has been one of the divisional winners for the league's sportsmanship award five times.
"I think everybody would agree that you could make a case for a lot of guys in the locker room, but Shane, he's the ultimate teammate," Heat coach Erik Spoelstra said. "Self-less. He'll do whatever it takes. He's a leader. He's playing for his brothers, his teammates, and you can feel it. So it's a great award."
The award is named for Jack Twyman and Maurice Stokes, both members of the Basketball Hall of Fame who were forever linked by what happened in the final game of the 1957-58 regular season, when Stokes suffered a brain injury.
Stokes was paralyzed, and Twyman supported him for the remainder of his life-even becoming his legal guardian and advocate.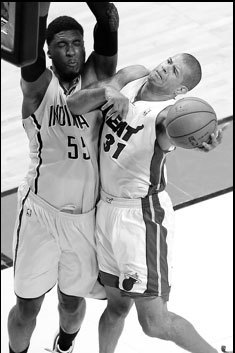 Miami Heat forward Shane Battier drives to the basket as Indiana Pacers center Roy Hibbert defends during the first half of Game 3 of the NBA Eastern Conference playoff series on Saturday in Miami. Wilfredo Lee / Associated Press
(China Daily 05/26/2014 page23)