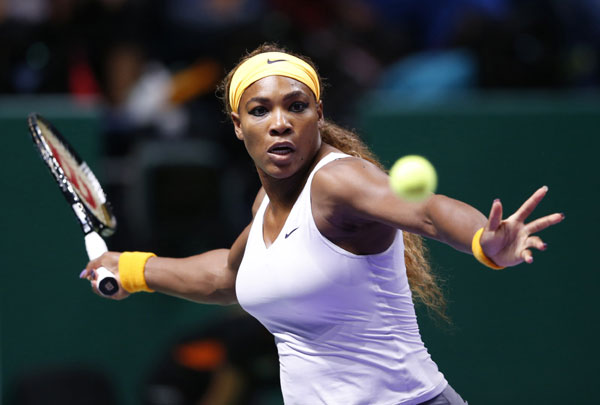 Serena Williams of the US hits a return to Petra Kvitova of the Czech Republic during their WTA tennis championships match at Sinan Erdem Dome in Istanbul, Oct 24, 2013. [Photo/Agencies]
World No 1 Serena Williams needed to win only a set to qualify and she breezed through the first despite fighting off three break points in the very first game. She quickly warmed up to overwhelm the fifth-seeded Kvitova, who won Wimbledon and the WTA title in 2011. Kvitova had to withdraw last year because of injury.
"Something told me to hold serve in that game, and I'm glad I did," Williams said. "Could have definitely changed things. I could still be out there. I really just dug deep and tried to hold.
"When I play top players or a Grand Slam winner, such as Kvitova who has such a dangerous game, you've got to go in there knowing that anything can happen, and I have to be really focused."
Williams did not stop after the first set and broke serve again for a decisive 3-1 lead in the second. Williams set up a match point with a service winner and won when Kvitova's return sailed into the net. She finished with 11 aces.
"I think her serve is really big, so I knew I wanted to hold. I served well," said Williams, who has never lost to Kvitova in five matches.  
Williams, 32, is enjoying the finest season in her career, having already won 10 titles. She added the French Open and US Open titles to bring her Grand Slam record to 17 championships and is 76-4 for the year.
Making her eighth appearance in the event, Williams is looking to become the first player to successfully defend the title since Justine Henin in 2007. Henin was also the last to win 10 titles in a season, in 2007.
Williams has clinched the year-end No 1 ranking for the third time in her career after 2002 and 2009.