With Sebastian Vettel's fourth successive Formula One title now just a formality, the more intriguing question is whether the Red Bull driver can go on to match a record that has stood for 60 years.
With a 90- point lead overFerrari's Fernando Alonso, the 26-year-old German should become the sport's youngest quadruple champion in India next week.
Alonso is his only rival still mathematically in contention, with four races remaining.
After winning Sunday's Japanese Grand Prix, Vettel needs only to finish fifth at the Buddh Circuit to be sure of the title and will not need to score another point if Alonso fails to finish first or second.
The champion has won the past five races and is on track to close out the season with nine successive victories, a feat only one driver has ever managed: Italian Alberto Ascari with Ferrari in 1952-53.
"Sebastian has won every race since the summer break, which is an incredible achievement - and there are still four races to go," Red Bull principal Christian Horner said.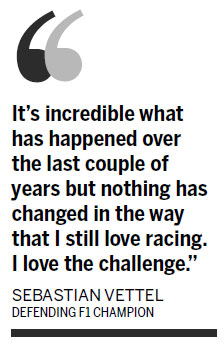 "Our target is to try to carry this momentum into the last four races. I don't think any of us could have imagined that he would have had the run of success that he has. The way he's driving at the moment is quite supreme."
Vettel is only the sixth driver to win five times in succession, the most recent being Michael Schumacher with Ferrari in 2004 when the seven-time champion went on to win seven in a row.
Schumacher also holds the record of 13 wins in a season, another milestone Vettel can match after taking his current tally for the year to nine with a performance that Horner hailed as exemplary.
Asked whether he would rather join Schumacher and the late Argentine Juan Manuel Fangio as the only drivers to have won four successive titles, or win every race on the calendar, Vettel said he preferred the second option.
"You know, I love racing," he said.
"It's incredible what has happened over the last couple of years but nothing has changed in the way that I still love racing. I love the challenge."
The German had dropped to third at the first corner of the race at Suzuka, after being beaten to the pole by Australian teammate Mark Webber and then overtaken at the start by Romain Grosjean's Lotus while having a brush with Mercedes' Lewis Hamilton.
A two-stop strategy, with Webber switched to three, then brought the race to him.
Sunday's win was Vettel's fourth in five years at Suzuka and that wealth of experience paid off.
In 2011, when he won his second title at the Japanese circuit, he had led only to be reeled in late in the race by those who had more left in their tires. Vettel ended up third.
"We lapped slower than the others who were on fresh tires in order to push them later in the race," he said on Sunday.
"We had a similar race in 2011, where I think I came in always as the first and I was under enormous pressure towards the end of the race and got passed by two cars.
"So this time we did it the other way around."
The title will have to wait a few more days but it was always a long shot for Suzuka, depending on Vettel winning and Alonso finishing outside the top eight, even if Red Bull's domination this season has been such that some observers felt Vettel and the team should have wrapped it up.
"I am absolutely gutted to have achieved a one-two finish in one of the best races strategically and operationally ... the whole team is massively pissed off," joked an incredulous Horner when it was put to him that he might be feeling disappointed.
"We came here to try to win the race today and the championships will take care of themselves. We'll go to India and we'll attack that weekend as we have here and if we score more points than the others we'll win the championship."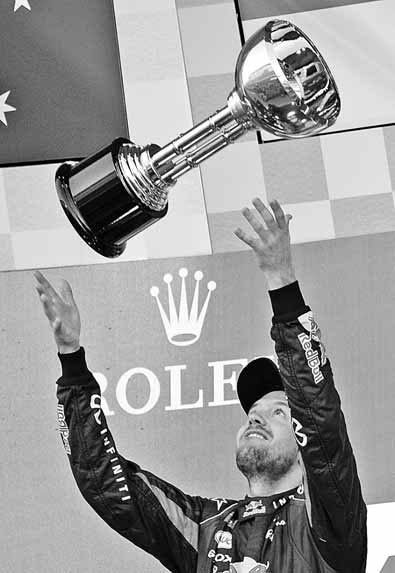 Sebastian Vettel tosses the trophy in celebration of his victory in Sunday's Formula One Japanese Grand Prix in Suzuka. Toru Yamanaka / Agence France-Presse
(China Daily 10/16/2013 page23)