International vertical run debuts in Beijing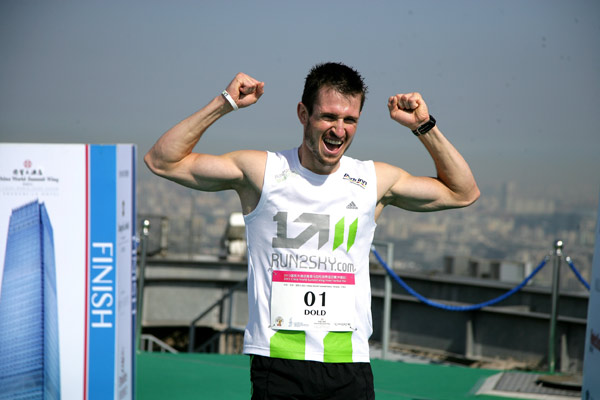 Reigning Vertical World Circuit Champion Thomas Dold of Germany wins the inaugural China World Summit Wing Hotel Vertical Run in Beijing, on Aug 3, 2013, setting the overall fastest time up Beijing's tallest building. [Photo provided to chinadaily.com.cn]
BEIJING - The highest hotel in Beijing, Shangri-La's China World Summit Wing, Beijing, hosted the first-ever vertical run in China accredited by the International Skyrunning Federation (ISF) on Saturday.
The 330-meter tower challenged 600 runners from different countries, including 12 elite athletes vying to be crowned 2013 Vertical World Circuit (VWC) champions, to climb 82 floors and 2,041 steps.
German runner Thomas Dold and Australian Suzy Walsham respectively claimed first place in the men's and women's vertical marathon in Beijing, the first such event held in the Chinese mainland.
Dold completed the race in 9 minutes and 55 seconds, while Walsham claimed the women's title in just 11 minutes and 47 seconds.
The participants started racing from the skyscraper's lobby, climbing all the way up to the rooftop. A 79-year-old Li Xingyuan from China was the oldest runner in Saturday's race.
The Beijing race is the fourth leg of the 2013 Vertical World Circuit organized by International Skyrunning Federation, which includes the Empire State Building in New York City and Taipei 101 in Taiwan.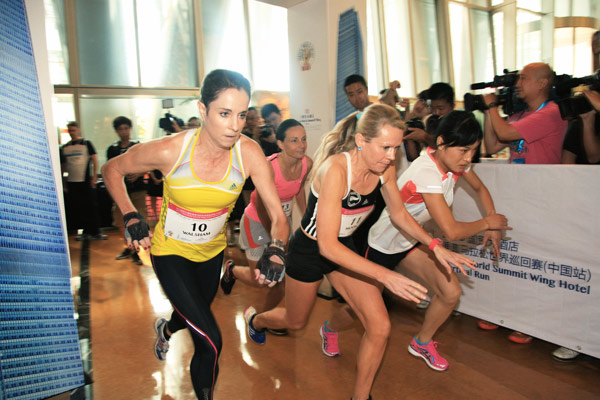 Runners race for the top during the inaugural China World Summit Wing Hotel Vertical Run in Beijing, on Aug 3, 2013. [Provided to chinadaily.com.cn]
<<!-- iscomment为1标示该文章可以评论 -->