Johnson determined to become Saints latest find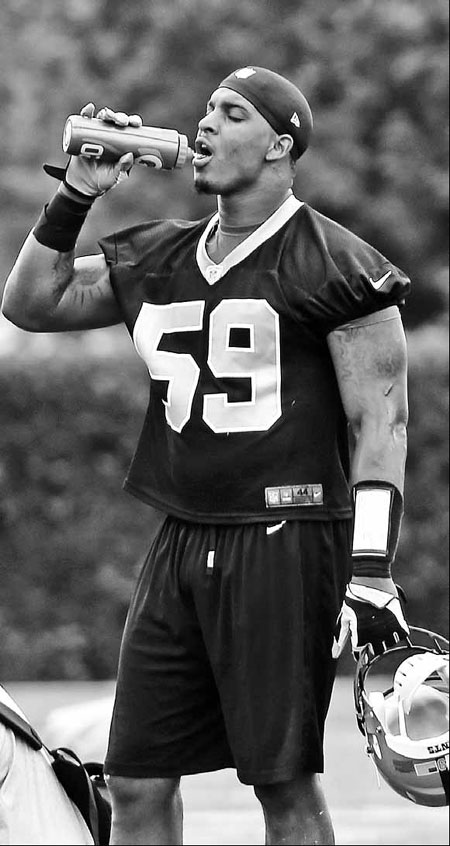 New Orleans Saints linebacker Rufus Johnson takes a drink during NFL practice at the team's training facility in Louisiana on Tuesday. Bill Haber / Associated Press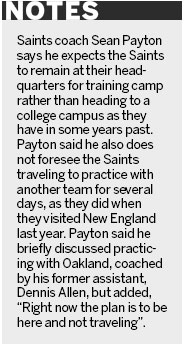 Rookie's promotion to NFL proves a shot in the arm for ailing father
Rookie linebacker Rufus Johnson hopes his journey from Division II to the NFL in New Orleans is boosting his ailing father's morale.
Indeed, while many Saints were preparing to enjoy a weekend off following the final practice on minicamp on Thursday, Johnson planned a short flight home to Dallas and some quality time in the hospital room of his father, Rufus Sr.
"When I do get to talk to my dad, I got a feeling I keep my father strong," said Johnson, who declined to go into detail about his father's illness beyond saying it is related to diabetes. "I'm the reason my father is still here."
The 6-foot-5, 272-pound Johnson, drafted in the sixth round out of Tarleton State, is only the latest example of the Saints hoping to mine small college programs for big-league talent. Since coach Sean Payton took over in 2006, they've found one of the NFL's best offensive guards, Jahri Evans, at Division II Bloomsburg, and one of the franchise's all-time great receivers, Marques Colston, at Hofstra, which was Division I-AA (since renamed FCS) before the program was dropped altogether.
Former starting left tackle Jermon Bushrod, who left in free agency this offseason, was drafted out of Towson, also of the FCS.
New Orleans' director of college scouting, Rick Reiprish, said his scouts visited Tarleton, in Texas, a couple times to get a look at Johnson, who played defensive end in college. He had 17.5 tackles for losses last season, 10 of them sacks, and was named the Lone Star Conference defensive lineman of the year.
Scouts also watched him play, and met him for the first time, at the Texas vs. The Nation college all-star game, where Johnson lined up against players from some of the country's elite Division I programs.
"This kid really stood out," Reiprish said. "We had a chance to visit with him some and we really started liking him, just watching his athletic ability down there."
Having met with the Saints' coaching staff about new defensive coordinator Rob Ryan's 3-4 scheme, in which outside linebackers play roles similar to pass-rushing defensive ends, scouts deemed Johnson a good fit.
"It was one of those deals that, this guy does have a chance in our system," Reiprish said. "What he does the best is rush up the field and get quarterbacks. If he can learn to play back in coverage, the little he's going to have to do it, he'll be fine."
Johnson grew up playing football, taught by his father, who played at Texas Tech. The younger Johnson was recruited by some major college programs, including Mississippi State and Baylor, but did not qualify academically.
Still, he knew he had the build - and suspected he had the ability - to one day get his chance in the NFL.
On April 27, the day he was drafted, he broke down as he thought about all he had overcome.
"Growing up, I've seen quite a few bad things and I just thank the Lord I have my mom and my dad who don't let me go astray," Johnson said. "I've seen a lot of bad stuff happening to people and I've seen people come and go, so having this opportunity to be here ... I'm just grateful, super grateful."
Johnson said he intends to be a role model for those where he grew up and a source of strength for his father, whom he credited with teaching him about responsibility and accountability.
A lesson Johnson remembered most came when he complained to his father about his teammates after his Pop Warner football team had lost a game.
"My dad says, 'When you point the finger, three fingers are pointing back at you,'" Johnson recalled. "So you really got to just take responsibility for your own actions. You really just can't say, 'Those guys,' when you were out there with the guys at the same time."
When Johnson was drafted, his father hugged him and kissed him on his forehead, and simply told him it was "time to go to work".
Johnson said he believes he can make it as a pro because of his refusal to quit and his eagerness to learn, and because of the motivation he has to make his father and the rest of family proud, and make their lives better, if he can.
"I'm going to keep on pushing," Johnson said, "because I'm afraid I'm going to let some of my family down."
(China Daily 06/12/2013 page11)