Tokyo safe choice tag not a drawback: Inose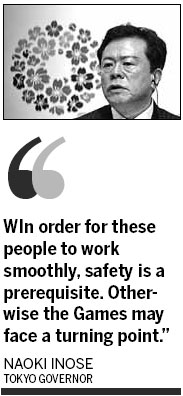 Tokyo's 2020 Olympic bid has been labelled as the safe choice in contrast to rivals Istanbul and Madrid but for city governor Naoki Inose, this is not a drawback.
"Safe choices are the most important ones," Inose told Reuters in an interview. "It is only once every four years that athletes can reach glory and honor."
The safe tag has been used to describe a solid bid by Tokyo that may appear to be lacking some of the excitement of the other two concepts but which could carry less risk.
Istanbul, making its fifth bid in the last six elections, has played up its plans to become the first city in a Muslim majority nation to host the Games, sitting on the crossroads of Europe and Asia.
Madrid, bidding for the third straight time despite economic problems in Spain, has highlighted the country's sporting successes in recent years and the large number of world-class venues already in place.
The International Olympic Committee will elect the winning host at its session in Buenos Aires in September.
Inose said broadcasters, the IOC and local organizers were putting a huge effort into staging the Games with safety of delivery being the number one priority.
Smooth work
"In order for these people to work smoothly, safety is a prerequisite. Otherwise the Games may face a turning point," said the outspoken politician through a translator.
"There has to be safety and security for the Games. It is inevitable that the scale and size of the Games will expand going forward in terms of spectators and viewers," he said.
Inose, who last month had to apologize for "inappropriate" comments he had made on Istanbul and Islamic countries in an interview, said Tokyo's already existing Games fund of $4.5 billion underlined the importance of that security.
"It is there, sitting in the bank," he said, adding that a winning Tokyo bid would mean a multibillion market for the Games.
"We have a time zone reach where we can cover roughly half the world's population," he said.
A key aspect of the Tokyo bid is that many of its venues have already been constructed. Tokyo planners also emphasise the compactness of its offer, with 85 percent of the venues located within an 8 kilometers radius of the Olympic Village.
Inose said having consecutive winter and summer Games in Asia, with South Korea's Pyeongchang hosting the 2018 Winter Olympics, was not an obstacle.
"It has been decided. There is nothing I can do," he said.
"But they are totally unrelated," he said, citing examples of past consecutive Games, winter and summer, held on the same continent.
(China Daily 06/12/2013 page11)