Lionel Hollins out as Memphis coach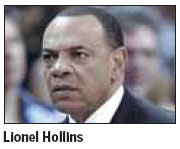 The Memphis Grizzlies have decided to part with the winningest coach in the franchise's history, telling Lionel Hollins they will not be renewing his contract as head coach coming off their first trip to the Western Conference finals.
Hollins confirmed Monday night to The Associated Press that he had been told his contract would not be renewed. He had no further comment.
The Commercial Appeal first cited anonymous sources that Hollins had been told he would not be back as the Grizzlies' head coach. WMC-TV in Memphis first reported Hollins said his contract would not be renewed before thanking former Grizzlies owner Michael Heisley for giving him the opportunity to be head coach and Memphis fans for their support.
The move finally came after Hollins attended each of the Grizzlies' first three pre-draft workouts, including the third session Monday.
Hollins' contract had been set to expire June 30, but the Grizzlies issued a statement Monday night saying that Hollins is no longer with the organization. Jason Levien, chief executive officer and managing partner of the Grizzlies, said they decided after talks with Hollins and his agent to go in a different direction and thanked the veteran coach for his work with the franchise since its start in Vancouver.
"Lionel, the coaching staff, the players and the organization achieved new heights this season with our run to the Western Conference finals and for that, we are grateful," Levien said in his statement. "The entire Grizzlies' family wishes Lionel all the best and great success as he moves forward in his career."
Hollins, who won an NBA title as a player with Portland in 1977, had been with this franchise for 10 of its first 12 seasons and was the interim head coach first in 1999-00 when he replaced Brian Hill after a 4-18 start in Vancouver and again for four games in 2004-05 after Hubie Brown resigned. Heisley hired Hollins after firing Marc Iavaroni in January 2009, and he is 214-201 overall and 18-17 in the playoffs.
His future with the team has been unsettled since the Spurs swept the Grizzlies in the West finals. He led Memphis to a better record each season, including a franchise-best 56-26 record this season. The Grizzlies beat first the Clippers, then top-seeded Oklahoma City in the playoffs.
Hollins said a day after the Grizzlies were swept that he wanted to stay in Memphis. But now Hollins is expected to interview with the Clippers and the Denver Nuggets later this week.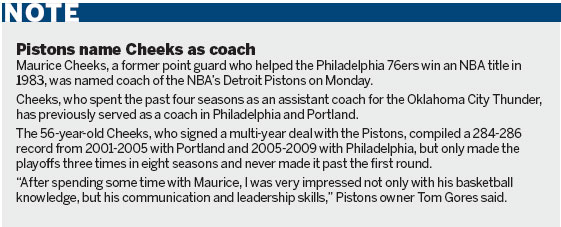 (China Daily 06/12/2013 page12)