16-Slams winner Serena says she has not peaked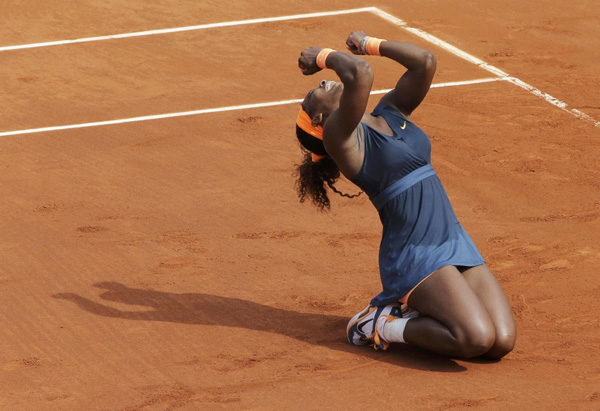 Serena Williams of the US celebrates defeating Maria Sharapova of Russia in their women's singles final match to win the French Open tennis tournament at the Roland Garros stadium in Paris June 8, 2013.  [Photo/Agencies]
PARIS - Serena Williams's love affair with winning tennis tournaments, and Paris, began 14 years ago and the American's passion for both remains intense after winning the French Open on Saturday.
The 31-year-old claimed the first of her 52 singles titles in the Paris indoor tournament in 1999 and has since gone on to become one of the greatest players of all time.
Her 6-4 6-4 defeat of Maria Sharapova on Saturday secured a second French Open crown - 11 years after her first - and took her grand slam singles tally to 16.
She now stands only two behind the tally of Chris Evert and Martina Navratilova, and even the 22 amassed by professional-era leader Steffi Graf does not look beyond her reach.
"I want to go out at my peak. That's my goal. But have I peaked yet?" a smiling Williams, who spoke near-perfect French in her victory speech on court, told reporters.
"I'm just trying to go up and up. Today when I won I was trying to win the French Open; wasn't trying to get to number 16.
"I don't know. I think it was Fabrice Santoro told me that (I had reached 16) and I thought, Wow, I forgot about that. It's really special and I feel like I definitely want to continue my journey.
"If it means I stop at 16 or if it means I have more, I definitely want to continue my journey to get a few more.
"The day I feel I cannot improve will be a big problem for me ... then I'll have to debate whether I should keep playing."
This month's Wimbledon championships, where she is hunting her sixth singles title, offers her the chance to draw level with the 17 of arguably the best male player of all time, Roger Federer.
"That would be awesome," she said. "If I could do it at Wimbledon that would be great but I'll have to get really serious about my game to ever catch Roger Federer."
'HATE LOSING'
Despite being the wrong side of 30, the gap between Williams and the chasing pack seems to be widening, and there is no sign of a mellowing of her desire, even if the explosive rants that have landed her in trouble in the past are now rare.
"I still hate losing as much as I love winning," she said.
"If I lose all hell breaks loose. But if I do lose I just go home and practise even harder. I really don't like it."
Even at close moments against Sharapova on Saturday, when the Russian upped the volume and the power, Williams remained cool, calm and collected.
"I was so nervous I could barely say 'c'mon!' today," Williams said. "I've learned to conserve. It's like grunting ... the less I grunt the less tired I get. Sometimes I grunt loud, embarrassingly loud.
"Today I was so amped up and I realised I just needed to stay calm."
Williams has suffered many disappointments in Paris since that win over Amelie Mauresmo lit the blue touchpaper of her career. She has fallen short on occasions when the title seemed up for grabs and last year suffered her only first-round exit in a grand slam tournament, losing to Virginie Razzano.
However, those upsets have not diminished her love of Paris, where she owns an apartment and trains at the Mouratoglou Academy. "I'm the most American person you'll meet and you can spot me a mile away," she said.
"But when I come here and I stay at my place and I'm just living a normal life, I'm training and then I go to sleep, so I feel like I have a lot more ties to this city and to this country because of it.
"It's been a great relationship. I have always just loved this city."