Boxer Mayweather tops highest-paid list of US pro sportsmen
Unbeaten boxer Floyd Mayweather tops Sports Illustrated's list of highest-paid pro sportsmen for the second straight year, according to the list released by the magazine on Wednesday.
Mayweather stretched his perfect record to 44-0 with a 12-round unanimous decision over Robert Guerrero on May 4, the first fight in his new megadeal with Showtime television that guarantees him at least $32 million per fight over six bouts.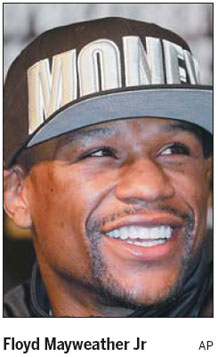 The fight for Mayweather's World Boxing Council welterweight world title was the champion's first since serving a jail term for domestic violence last year.
In compiling its Fortunate 50 list, Sports Illustrated reckoned Mayweather would earn $90 million in 2013.Tiger Woods, who was No 1 on the Fortunate 50 every year from 2004-11, falls to his lowest ranking ever at No 5 with estimated earnings this year of $40.8 million.
LeBron James, the Miami Heat superstar who was recently named NBA Most Valuable Player for the fourth time in his career, is second on the list with projected earnings of $56.5 million.
James becomes the first player in a team sport to be in the top two since former NBA star Shaquille O'Neal in 2004.
James's $39 million in endorsements were more than any other US sports figure in 2013, Sports Illustrated reported.
New Orleans Saints quarterback Drew Brees, who didn't figure in the top 50 in 2012, shot to No 3 in 2013 thanks to a $37 million signing bonus from his NFL team.The magazine's list takes into account salary, winnings, bonuses and endorsements.
Top 10 Earning Athletes
Name Sport 2013 earnings 2012 ranking
Floyd Mayweather Jr. Boxing $90,000,000 1
LeBron James NBA $56,545,000 5
Drew Brees NFL $47,800,000 NR
Kobe Bryant NBA $46,850,000 4
Tiger Woods Golf $40,839,027 3
Phil Mickelson Golf $39,528,630 2
Derrick Rose NBA $33,403,000 19
Peyton Manning NFL $31,000,000 7
Alex Rodriguez MLB $29,900,000 6
Zack Greinke MLB $29,020,000 NR
(China Daily 05/17/2013 page22)
Most Popular
Highlights
What's Hot