Fans: He brought soccer to Asia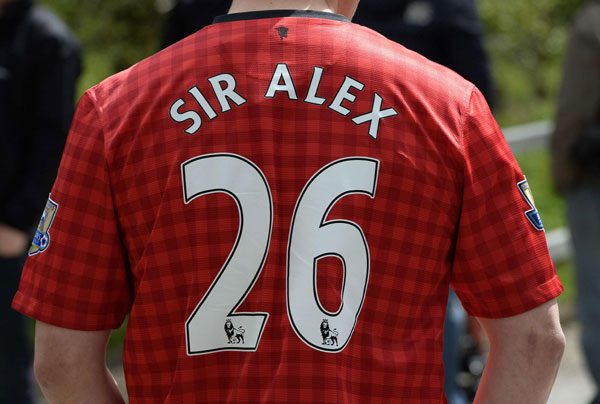 A fan wears a Manchester United shirt, bearing the name of manager Alex Ferguson, at the club's Carrington training ground in Manchester, northern England May 8, 2013. Alex Ferguson, the combative Scotsman who has become the most successful manager in the history of English soccer, said he was retiring this month after 26 years in charge of Manchester United.  [Photo/Agencies]
Asian fans from Singapore to Shanghai on Thursday praised Alex Ferguson's role in bringing Premier League soccer to the region's masses, after his shock retirement as Manchester United manager.
As the club's millions of Asian fans absorbed the news, splashed on front and back pages across the continent, they applauded Ferguson's regular visits and his signings of Park Ji-sung and Shinji Kagawa.
"Whatever else he has done, he has brought football to Asia, to the people, because not many people can afford to go to Old Trafford," said Laurence How, secretary of Malaysia's official supporters club.
TV images of the gum-chewing Ferguson have been a weekly feature of Asian life since the globally focused Premier League's inauguration in 1992, with now ubiquitous sports bars often crammed with locals wearing United shirts.
Streets, malls, markets and slums are also dotted with the United crest and colors.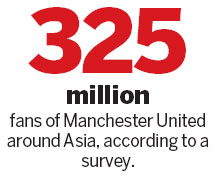 Last year, a survey commissioned by Manchester United and carried out by market research firm Kantar estimated there were 659 million Manchester United fans worldwide with about half of them, 325 million, in Asia.
"Most of the fans are devastated," said David Fan, general secretary of Reds in Shanghai, as supporters took en masse to China's popular, Twitter-style weibo micro-blogs, where the subject was trending.
"Like me, we didn't expect that. Most of us have been watching United for more than 10 years and it started with Sir Alex, so it's very hard for us to accept the fact. We've never seen the team without Sir Alex."
The Premier League's exploding popularity more than doubled overseas TV rights to 1.4 billion pounds ($2.2 billion) in 2010, and they are estimated to rise another 30 percent after the current round of negotiations.
In Asia, even the newly crowned president of the Asian Football Confederation, Bahrain's Sheikh Salman bin Ebrahim Al Khalifa, is a proud Manchester United fan, a fact proclaimed on his campaign website.
Manchester United has carefully cultivated its relationship with the continent, with Ferguson heading popular preseason trips. Companies such as Toshiba, Singha beer and Hong Kong's PCCW are among the list of sponsors.
"Last summer I saw them in Shanghai and it was quite unbelievable," Fan said. "You see them on TV, and then they're live in front of you.
"You can talk to them and the feeling is unbelievable, because you love this team, it's part of your life."
Most Popular
Highlights
What's Hot