On course for history
A Guangdong golf club has provided prodigy Guan with a launch pad to greatness, Tang Zhe reports.
Guan Tianlang became a household name overnight when the 14-year-old recently impressed the world with his performance at the Masters golf tournament in the United States.
For people at Lion Lake Country Club, it is just the climax to his family's long story of hard work and dedication.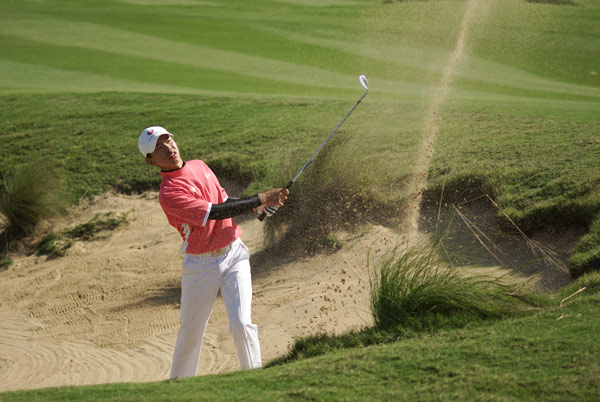 Guan Tianlang in action at the 2011 Aaron Baddeley International Junior Championship at Lion Lake Country Club in Guangdong province in December 2011. By winning the title, Guan qualified for the 2012 Australian Open. Provided to China Daily
Members of Guan's family have been frequent visitors to Lion Lake since the group began allowing him free training and residence at the club in 2010. The family doesn't take weekends or holidays. If there's no school, Guan is on the course.
"Guan's success is not accidental. Unlike other kids who like to play computer games and hang out in their spare time, there are only two things in his world studying and playing golf," said Zheng Jingfen, president of Lion Lake Yijiehongtai Group and a close friend of the family.
Guan's father, Guan Hanwen, was a doctor, and his mother, Liu Hongyu, was an architect. To ensure they had enough time to accompany their son at practice and tournaments, both gave up their jobs before they came to Lion Lake. Guan Hanwen takes care of golf-related affairs, while Liu is responsible for daily life.
"His father used to tell me the family was living off savings to fly around the globe every summer for tournaments. The financial burden is huge. He also used to show concern for the boy's future under such pressure," Zheng said. "I told him just to focus on the development of the boy, and let us handle the pressure for them.
"China is such a big country, as a practitioner in the golf industry, we believe there should be a golf hero. We saw a promising future in this kid, so we decided to support and help him."
The course has proved to be a perfect training ground for Guan.
"The first time we met, his father told me this course is perfect for Langly (Guan Tianlang's nickname). I didn't understand the real meaning of his words until (Lion Lake group) Vice-President (John) Ho went to Augusta with them," Zheng said.
"The 18 greens at Augusta are of the same style as our course, from the sizes to the characteristics, the two courses are like twin sisters," she said.
According to Ho, Lion Lake's 36-hole course is the first crafted by American designer Rick Jacobson, who was a senior designer for Jack Nicklaus Golf Services in United States.
After Guan qualified for the Masters by winning the Asia Pacific Amateur Championship, Lion Lake designed an exclusive green for him, which was maintained with extreme care to match the speed of those at Augusta.
"The most difficult part of playing golf is on the green, which is Guan's biggest advantage, and it allows him to compensate for his disadvantage in distance with outstanding short putts," Zheng said.
Lion Lake Country Club, which displays 15 of Guan's trophies, has been overwhelmed by excitement since the Masters.
"From the first day, I haven't heard any customer here talking about Tiger Woods, there is 'Guan Tianlang' everywhere," said Bao Jiuhui, deputy general manager of the Lion Lake Country Club.
"The customers bought lots of our hats with the Lion Lake logo that Guan was wearing during the Masters, and have asked me for Guan's signature after he comes back."
Zheng even received a special call from the US embassy.
"The embassy said it will help Guan apply for a full scholarship in the US, and it wants to talk with his family at Lion Lake as soon as they come back," Zheng said.
The president asked that Guan should be allowed to develop at his own pace.
"Though Langly has won global attention this time, as a 14-year-old child, he still has a long way to go," Zheng said.
"It's never too late to think about the business issues after he starts a professional career, and the agencies shouldn't come out to affect his mindset at this crucial moment."
Most Popular
Highlights
What's Hot