Boozer helps Bulls beat Nets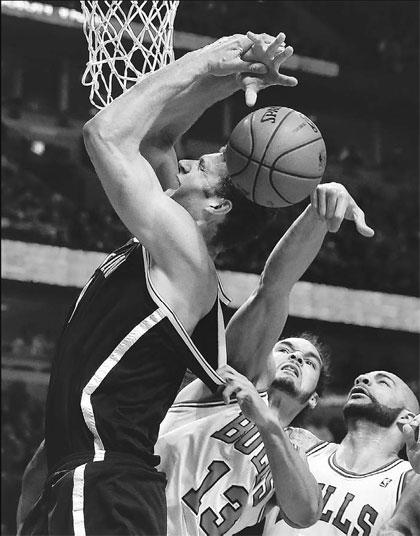 Brooklyn Nets' Brook Lopez (left) is fouled by Chicago Bulls' Joakim Noah as Bulls' Carlos Boozer looks on during the first half of Game 3 of their Eastern Conference quarterfinals playoff series in Chicago on Thursday. [Photo/Agencies]
Scrappy Chicago takes 2-1 series lead with 79-76 win over Brooklyn
Every play near the basket looked like a traffic accident. There were long scoreless stretches. Shooting from outside was a dicey proposition.
It was ugly for everyone but the Chicago Bulls. This was their type of game.
Carlos Boozer had 22 points and 16 rebounds, Luol Deng added 21 points and 10 boards, and the Bulls held off the Brooklyn Nets 79-76 in Game 3 of their first-round playoff series on Thursday night.
"We did what we had to do to win the game," Boozer said. "In the playoffs you have to win different ways. Nothing is perfect."
Chicago had no field goals and two foul shots over the final 5:46 of its second straight win in the series. It will try for a 3-1 lead when the banged-up teams return to the court on Saturday afternoon in a quick turnaround.
Brooklyn shot 35 percent for the second straight game. Brook Lopez had 22 points, nine rebounds and seven blocked shots, and Deron Williams finished with 18 points on 5-for-14 shooting.
"When we get the ball swung to the weak side and we get some movement, we're fine," Williams said. "But when we just let them keep us on one side, we're struggling. We're struggling to shoot the ball, score the ball, and we're playing right into what they want to do."
Deng led the way as Chicago grabbed control in the third quarter for the second consecutive game. The All-Star forward scored 12 points in the first four minutes of the period, seemingly scoring at will against Gerald Wallace as the Bulls turned a seven-point halftime advantage into a 16-point lead.
"I had a few good minutes," Deng said. "I felt like I could have shot the ball a lot better. I don't know how many minutes, seven or so of great minutes. They could have sent me home after that."
Deng connected on four long jumpers before he drove inside for a three-point play off a foul on Wallace. A free throw by Boozer made it 54-38 with 7:36 remaining.
Brooklyn made one last charge when Lopez had eight points in a 10-2 spurt that trimmed Chicago's lead to 77-74 with 14.4 seconds left. But Nate Robinson and Joakim Noah each hit a free throw and former Bulls guard C.J. Watson missed an open 3 at the buzzer.
"I was surprised I was open and I just tried to get it off before the clock went out and just missed it," he said.
Joe Johnson got a cortisone shot for his ailing left foot and finished with 15 points for Brooklyn, while Noah's foul shot was his only point of the game while dealing with his own painful foot injury. Noah also had eight rebounds, two assists and two blocks.
"I felt pretty good the whole game, other than probably about the last two to three minutes. It had kind of tightened up," Johnson said. "But other than that, I felt all right."
The Nets cruised to an easy victory in the playoff opener and flopped in Game 2, when they managed only 11 points in the third period of a 90-82 loss on Monday night that handed home-court advantage to the Bulls. There was no word on Johnson until the starting lineups came out right before Game 3, but coach P.J. Carlesimo was more focused on Brooklyn playing with more aggression and getting off to a fast start than whether the guard was going to be able to play.
That emphasis worked at the beginning, but it quickly fell apart when the Nets went cold again on offense and the Bulls started to find their rhythm at both ends of the court.
"They came out and jumped on us pretty good," Bulls coach Tom Thibodeau said. "So we had to dig out of that hole. Once we did that, I thought, for the most part, in the second and third quarters we played well."
Most Popular
Highlights
What's Hot