Academy opens with new ideas
A new sports institute has vowed to produce more champions who will be both strong in body and mind.
The New Champion Academy, which was founded by former world champion volleyball player Yang Xi, has already introduced a tailor-made swimming program as it aims to cultivate a new breed of athletes with all-round abilities.
"The traditional impression of student athletes and high-score pupils is that they differ sharply in China," Qian Hong, a former Olympic champion swimmer, said at the launch of her swimming project at Yang's school on Thursday. "Whereas the former is often called muscular but poorly educated, the latter is usually described as myopic and obese.
"We just want to change that by nurturing healthy and athletic students, who can also do well at exams."
Located in the National Tennis Center, which hosted the 2008 Beijing Olympics' tennis tournament, the academy boasts a groundbreaking concept to improve China's current education system by highlighting physical education's role and also introducing Western teaching methods.
According to Yang, a two-hour PE class featuring multiple events will be mandatory each school day along with English and art courses for all students from kindergarten to ninth grade. The most will be selected for the tennis and swimming programs and receive professional training.
Most traditional primary and high schools barely ensure one hour of PE per day.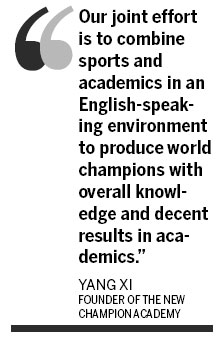 The school has hired an international teaching team to provide programs that include all the required classes in normal schools as well as a customized curriculum for gifted children in sports and arts.
Graduate students of the program will have the opportunity to either enter domestic universities, earn offers from overseas colleges or choose to be professional athletes.
"Without a strong body, it's impossible for the next generation to realize the China dream," said Yang, who helped China win five consecutive world titles as a striker in the 1980s.
"Our joint goal is to combine sports and academics in an English-speaking environment to produce world champions with overall knowledge and decent results in academics."
Samuel Ahadu, a PE teacher at the school who had worked at the Western Academy of Beijing for 10 years, is impressed by the new model.
"I am familiar with the Chinese (education) system. We are trying to change it a little bit. We are trying to make sure our kids are self-motivated, that they can think for themselves and be creative to find solutions to whatever they are facing - either on the tennis court or in life."
In addition to its foreign teachers, the school also boasts a high-level coaching staff, which features ITF and USPTA licensed tennis trainers and former national swimming coaches, to provide advanced instructions to the future stars.
Helped by six foreign tennis coaches from Croatia and the United Kingdom, 10 girls from rural ethic groups have won national junior titles from the Under-12 to Under-16 levels.
With the expertise of Qian, who claimed the women's 100m butterfly gold medal at the 1992 Barcelona Olympics, the school is aiming to match those achievements in the pool.
Qian's program plans to enroll about 40 students - from grades one to eight - and former national team coach Feng Xiaodong will train them at the Water Cube.
sunxiaochen@chinadaily.com.cn
Most Popular
Highlights
What's Hot