Real Madrid injuries stoke Euro concerns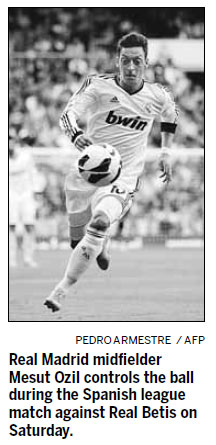 Real Madrid assistant manager Aitor Karanka rued the potential impact on its Champions League chances after injuries to Marcelo and Luka Modric in its 3-1 win over Real Betis on Saturday.
Two goals from Mesut Ozil and another from Karim Benzema stretched Real's advantage over city rival Atletico to six points in La Liga.
But Karanka's major concern was seeing the Brazilian and Croatian stars limp off ahead of Wednesday's Champions League semifinal first leg against Borussia Dortmund.
Marcelo went off after just 15 minutes when he overstretched trying to make a clearance, while Modric left the field to be replaced by Pepe just after an hour.
"Marcelo has felt a strong sharp pain," Karanka said.
"Modric seems like just a strain but he said that he noticed something. The injuries have been the worst thing about the game."
Brazilian midfielder Carlos Henrique Casemiro surprisingly made his debut in what was a much-changed Madrid side and Karanka was delighted with how the 21-year-old Nacho coped throughout.
"Casemiro is a player that has played in the first division in Brazil and has been a world champion at Under-20 level. Moreover, we had players out injured and the kid has done pretty well. He has given everything. Nacho always comes through when we need him and in (reserve side) Castilla he is performing as a captain and a leader."
However, the real star of the show was Ozil with his double and Karanka is hoping those goals will be the perfect boost to his confidence ahead of the meeting against his countrymen midweek.
"We know what he is and what he can generate. He didn't play last week in Bilbao due to an injury problem and to play the whole game against Betis was important.
"Now he has time to recuperate. The goals have been good for his confidence."
Barcelona though maintained its 13-point lead over Madrid and moved to within just two wins of its fourth La Liga title in five seasons thanks to a 1-0 win over Levante at the Nou Camp.
The host had been frustrated by the visitor's dogged defending after Keylor Navas saved David Villa's first-half penalty until Cesc Fabregas finally made the breakthrough eight minutes from time.
The match was just as remarkable for Eric Abidal's first start after 14 months following his liver transplant and the Frenchman's performance was so impressive that Barca assistant boss Jordi Roura said he is in contention to play against Bayern Munich on Tuesday.
(China Daily 04/22/2013 page23)
Most Popular
Highlights
What's Hot