Rasheed Wallace announces retirement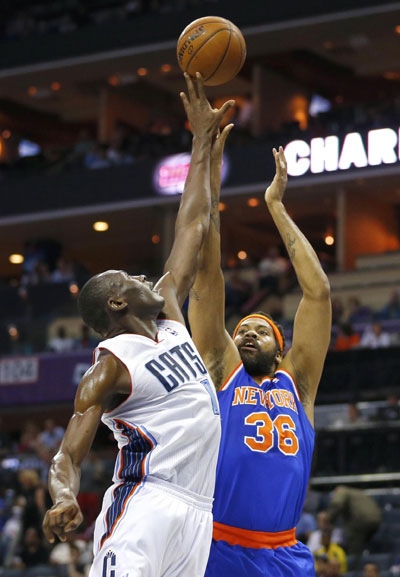 New York Knicks power forward Rasheed Wallace (36) has his shot blocked by Charlotte Bobcats power forward Bismack Biyombo of Democratic Republic of Congo (L) during an NBA basketball game in Charlotte, North Carolina April 15, 2013.  [Photo/Agencies]
NEW YORK - New York Knicks forward Rasheed Wallace announced his retirement from the National Basketball Association (NBA) on Wednesday after injuries ruled him out of this season's playoffs.
The 38-year-old originally retired in 2010 but made a comeback last year, joining the Knicks on a one-season deal.
However, injuries limited his playing time and he had already been ruled out of the playoffs, which start this weekend, because of a recurring foot problem.
"Rasheed has given this team everything he had," Knicks coach Mike Woodson said in a statement.
"He is a winner, true professional and leader on and off the court. Due to his injury, he will not be available to play for us during the playoffs."
A four-time All-Star during his 15-year career with four teams, including Portland and the Boston Celtics, Wallace won an NBA Championship with Detroit in 2004.
He played in 21 games this season, averaging seven points and four rebounds. Over his entire career, he averaged 14.4 points and 6.7 rebounds.
An imposing figure, standing 6ft 11in (2.11 metres), Wallace finished as the all-time leader in technical fouls with 304.  
Most Popular
Highlights
What's Hot