Baby joy for star figure skating pair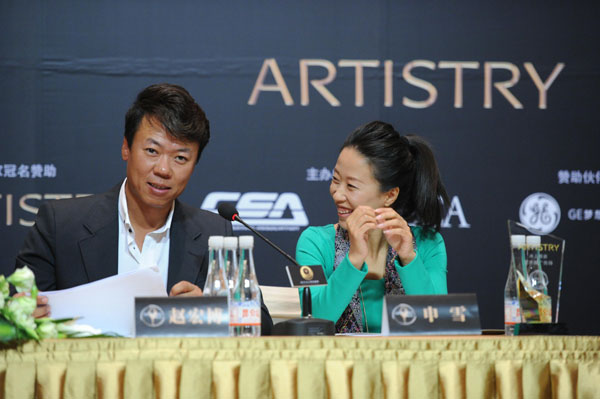 Shen Xue (right) and Zhao Hongbo at the media conference to launch Artistry On Ice 2013 on Wednesday in Beijing. Provided to China Daily 
Shen and Zhao expecting child on their wedding anniversary
Chinese figure skating fans will be treated to the annual gala Artistry On Ice in June. A few months later, Shen Xue and Zhao Hongbo, China's most successful figure skating couple, will have a special treat of their own when they become parents.
Shen confirmed their baby is expected on Sept 4, the same date three years' ago that they had their wedding on ice.

"As we planned, Shen is pregnant," said a smiling Zhao, while launching their annual show on Wednesday.
"The date given for the birth is a lucky coincidence as it is the day we held our wedding on ice at the first Artistry On Ice exhibition in 2010 that means a lot to us," Shen, 34, said.
"It took me some time to adjust to the new role as an expectant mother and my friends just told me to enjoy the pregnancy."
After performing together for 20 years, Shen and Zhao, multiple world and Olympic champions, decided to take a break from their busy careers last year to extend their family.
This year's Artistry On Ice show will be held in four cities Taipei (June 8), Guangzhou (June 10), Shanghai (June 14) and Beijing (June 16).
Shen and Zhao will not perform, but will act as artistic directors for this year's show, which is themed "Dramatic". Zhao will also be one of the hosts of the show.
Artistry On Ice, in its fourth year, began with the couple's romantic wedding in 2010.
"We ask ourselves to be more creative every year, so it's great challenge for us," said the 39-year-old Zhao.
"If I have no injuries, I want to continue skating, but, for now, I have to change my role to artistic director. I hope my new job will please the audiences.
"This year, we will provide a range of special views created through three-dimensional technology. The whole rink will look like a place to realize dreams."
Besides becoming a father and an artist director, Zhao will take on another role soon - a coach of the Chinese figure skating team.
Although that position still has to be approved by the Chinese Winter Sports Administrative Center, Zhao has already started laying out his plans.
"I recently went to Heilongjiang province to select young skaters and I have a rough list now," said Zhao.
"I want to select potential pair from those young singles skaters. I also plan to give them detailed training both on land and on ice. They will receive artistic performance training on land and skating skills' training on ice."
Since Shen and Zhao's retirement, Chinese figure skating has been in a bit of a slump. Current top pair Pang Qing and Tong Jian, two-time world champions and Vancouver Olympic silver medalists, have been hit by injuries. Young teammate Zhang Hao, who changed partners last year, has been unable to recapture the form which saw him claim silver at the Turin Winter Olympics in 2006 with former partner Zhang Dan.
"Chinese figure skating is in a difficult time right now," Zhao said.
"I'm still waiting for the administrative center to approve my coaching position ... I want to give the young skaters all of my experience if I'm appointed coach."
leilei@chinadaily.com.cn
Most Popular
Highlights
What's Hot