Lakers lose Kobe, survive thriller against Warriors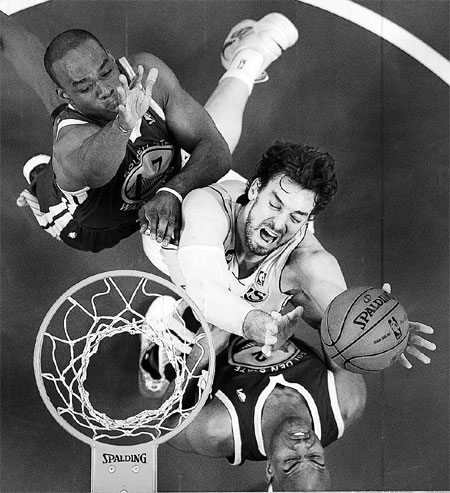 Los Angeles Lakers forward Pau Gasol (center), puts up a shot as Golden State Warriors guard Jarrett Jack (below) and forward Carl Landry defend during the first half of their game on Friday in Los Angeles. Mark J. Terrill / Associated Press
Bad news is Bryant likely out for rest of season with Achilles' injury
Kobe Bryant pushed his fraying body and his Los Angeles Lakers teammates relentlessly through the second half of a vital game until he felt a searing pain in his left heel.
Bryant's Achilles' tendon apparently is torn. His season likely is over.
And though the Lakers held on to beat Golden State, Bryant thinks they'll have to continue their playoff chase without their leader.
Bryant scored 34 points while playing much of the second half in obvious pain with an injured left leg, eventually leaving with 3:06 to play in the Lakers' 118-116 win over the Warriors on Friday night.
Bryant hyperextended his left knee early in the half, but didn't come out while the Lakers chased a victory that kept them one game ahead of Utah for the eighth playoff spot in the Western Conference.
Bryant then hurt himself seriously on a relatively innocent drive to the hoop, altering the Lakers' season and possibly changing NBA history.
"I made a move that I've made a million times, and it just popped," he said solemnly while leaning on crutches in the Lakers' locker room.
Bryant got the ball on the perimeter, stuck out his leg and pushed off his left foot to drive past Harrison Barnes. Bryant didn't make it two steps before he fell to the court in obvious pain while Barnes was called for a foul, but Bryant stayed in the game long enough to hit his free throws before trainer Gary Vitti helped him to the locker room.
"I can't walk," Bryant said. "I tried to maybe put pressure on my heel, but there was nothing there."
Immediately after the game, the Lakers announced Bryant probably had a torn tendon. He will have an MRI exam on Saturday, but Bryant knows the injury is likely to end his season.
Bryant called it the most disappointing injury of his career "by far".
"We worked so hard to put ourselves in position and control our fate," he said. "I certainly have done a lot of work to prepare myself. It's just bad luck."
Achilles' tendon injuries can require months of rehabilitation and recovery, depending on their severity, and the 34-year-old Bryant has enormous mileage on his legs after 17 NBA seasons. The NBA's No 3 scorer this season has played more than 38 minutes per game, more than any teammate.
When asked what the injury meant for his career, Bryant bristled at the suggestion it could finish him.
"I know I can do this," said Bryant, who's averaging 27.3 points, 5.6 rebounds and 6.0 assists. "It's fueling me. It's fueling me. I can feel it already."
(China Daily 04/14/2013 page7)
Most Popular
Highlights
What's Hot