Shandong delights in youth brigade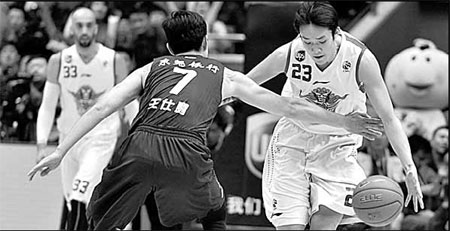 Ding Yanyuhang of Shandong Gold Lions tries to break past an opponent in the Game 4 of the CBA Finals against Guangdong Southern Tigers on Friday in Shandong. Led by Ding, a group of young players are on the rise in Shandong. [Provided to China Daily]
Despite getting swept from Finals, future looks bright for Gold Lions
Although they were swept by the Guangdong Southern Tigers in their CBA Finals debut, the Shandong Gold Lions still left their home court with plenty to feel happy about.
Foremost among the team's achievements was the raising of a crop of promising youngsters, which made great contributions during the team's postseason run.
Swingman Ding Yanyuhang and shooter Li Jingyu, both born in the 1990s, emerged as vital components in the Lions' breakthrough CBA season with decent figures while also showing great side's on-court maturity.
For their efforts, they received warm ovations from the home crowd at the 8,000-seat Shandong Gymnasium after losing Game 4, 94-74, to Guangdong on Friday night. Fans stood and applauded long after the final whistle before seeing the team off with posters outside the main gate.
The improvement of the side's young players has encouraged head coach Gong Xiaobin to expect more in the coming years.
"Playing on the final stage was already a big success for us as we are one of the youngest teams in the league," coach Gong said in the locker room after the sweep.
"Guangdong is still the best team in the CBA in terms of big-time experience and individual ability, but we saw a bright future as our young players got tested."
Drafted from the second team last season, 19-year-old Ding improved his game with consistent scoring off the dribble and strong defense after a tough preseason camp where he practiced with US guard Pooh Jeter and Jordan national forward Zaid Abbas.
Meanwhile, Li, 21, displayed his skill beyond the arc, knocking down 78 3-pointers to lead Shandong's Chinese roster, while also playing solid defense on the oppositions' main marksmen.
Combining for 24.7 points per game, the Ding-Li combo played a major role during the team's 15-game winning streak during the regular season while also taking pressure off the side's foreigners.
"These guys have come a long way," said Shandong's US forward Jackson Vroman. "When we were on a huge streak, they improved a lot. It took some time, but they will help forge a better team next year."
Their solid play during the regular season earned them major minutes during the CBA Finals, where they even impressed Guangdong's Lithuanian coach, Jonas Kazlauskas.
"I don't think there is a big gap between them and us. They have a lot of young talented players who have huge futures," said the former Chinese national coach.
Ding and Li attribute their improvement to the guidance of the team's foreign players, who have actively worked at building chemistry with their Chinese teammates on and off the court.
"He (Jeter) is a really helpful import to us," Ding said. "He never hesitates to point out our mistakes in practice and is always willing to teach us his skills."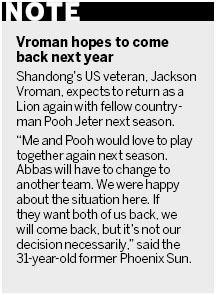 Li echoed Ding's sentiments, stressing the foreigners' energy provided the motivation for them to play more aggressively.
"They always come out strong on the court so everybody on court feels like they just have to play harder and with more intensity," Li said.
Shandong has enjoyed a major change in fortunes, rising from the bottom five in the 2011-12 CBA season to this year's runner-up, however the youngsters now expect greater things.
"I will find a cabinet to store my silver medal this year, but I will leave a space beside it for showcasing something bigger," said Li, alluding to a championship medal.
Although they earned high praise, the decision-making of Ding and Li under pressure fell well short when compared to that of Guangdong's veterans Zhu Fangyu and Wang Shipeng, who both delivered in the Finals.
Also, the media are concerned Ding and Li might hit a wall next season as opponents come into games better prepared for them.
"We just want to shoulder more responsibility for the team now and we are not going to rest in the offseason. Hopefully, we can come back stronger next season," Ding said.
sunxiaochen@chinadaily.com.cn
Most Popular
Highlights
What's Hot