Back to basics for Scotland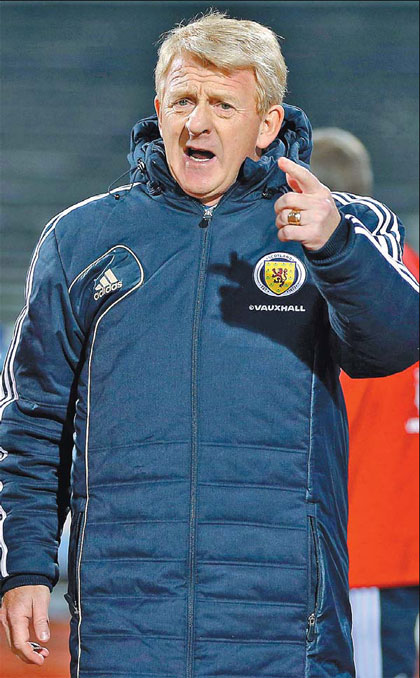 Scotland's manager, Gordon Strachan, reacts before the team's 2014 World Cup qualifying match against Serbia at Karadjordje stadium in Novi Sad on March 26. Marko Djurica / Reuters
First European side to drop out of Cup race needs to start rebuilding
Former Scotland star John Collins insists his country must go back to basics to avoid a repeat of its embarrassingly early exit from the World Cup. Gordon Strachan's side became the first European team officially eliminated from the race to qualify for next year's tournament in Brazil following its 2-0 defeat in Serbia on Tuesday.
The Scots are rooted to the bottom of qualifying Group A, below the likes of Wales and Macedonia, with two points from six games.
They have lost their past four qualifiers and have scored just three goals in the campaign.
It is now 15 years since Scotland's appearance at the 1998 World Cup - the last time it qualified for a major international competition - and Collins, who was part of that side, is shocked by the way the national team has disintegrated since then.

The team reached the finals of five consecutive World Cups from 1974 to 1990, an era in which it was inspired by players such as Kenny Dalglish, Archie Gemmill and Graeme Souness.
While Scotland has never threatened to win the World Cup or European Championship, for many years it could be relied on to at least qualify and occasionally produce memorable moments in the finals, such as its 3-2 win over eventual runner-up Holland in 1978.
But those glory days are but distant memories now and former Celtic midfielder Collins, who won 58 caps, believes Scotland must start grooming a new generation capable of replacing the present flops.
"The bottom line is we haven't been good enough," Collins told Sky Sports News.
"We are not good enough at this moment in time but we have to look further down the ladder at the younger players. That's where the real work has got to be done.
"It has started with the Scottish FA and the performance schools with the 12-year-olds.
"That's where the work has got to start on a daily basis, working on the skill and the technical aspect of the game, that's where we are falling short.
"It's going to take time and patience. Nobody has got a magic wand. It's a lot of hard work at the grass-roots level that's got to be done."
Strachan, himself a fine player who played for Scotland at the 1982 and 1986 World Cups, can't shoulder all the blame for his country's failings as he has only just started his reign as Scotland boss.
The former Celtic manager agrees with Collins that youth is the way forward, although he prefers to focus on the current crop of kids.
Brighton midfielder Liam Bridcutt made his debut in Serbia, while Blackburn Rovers duo Grant Hanley and Jordan Rhodes are also relatively new to the international scene, as is Hull City playmaker George Boyd.
"In the next couple of years we have to keep the best youngsters and the best of the players who are missing (with injuries) and if we can merge that then we can try to produce some football to the standard we have seen from Serbia," Strachan said. "They are a nation the same size as us, 7 1/2 million people, we are five million, so we will have to do the same."
(China Daily 03/29/2013 page22)
Most Popular
Highlights
What's Hot