Poland and Slovakia eye 'Barcelona Effect'
The Slovak and Polish premiers said on Wednesday they were eyeing the much-desired "Barcelona Effect" of economic growth as they endorsed their countries' bid to co-host the 2022 Winter Olympics.
The "Barcelona Effect" is economic jargon for the long-term boost of hosting a major sporting event, in reference to the 1992 Summer Olympics.
"The Olympics will be the best advertisement for both countries and it could be an economic success story," Slovakia's bold leftist Prime Minister Robert Fico told journalists after meeting Poland's centrist Premier Donald Tusk in Poprad, a Slovak city in the High Tatra mountains straddling the Polish-Slovak border.
"There is a real chance we will be chosen to host the Olympics," Tusk said.
Hosting the Olympics would cost up to $2 billion, most of which would be covered by the International Olympic Committee and Poland, Slovak government figures show.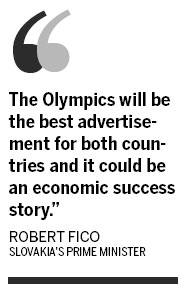 Slovakia would have to revamp its transport and sports infrastructure, moves which Poland already largely made ahead of the Euro 2012 soccer championships it successfully co-hosted last June with Ukraine.
In 2011, Slovakia was home to the World Ice Hockey Championship, a sport which is wildly popular among Slovaks and their Czech neighbors.
In 2022, the historic southern Polish city of Krakow could play host to the opening and closing ceremonies and some ice skating events while the southern resort of Zakopane would be in line to host cross-country and snow boarding competitions.
Chopok-Jasna, Slovakia's biggest ski resort, would host alpine skiing while ice hockey would be located in the northern cities of Liptovsky, Mikulas and Poprad, which unsuccessfully bid for the 2002 and 2006 Olympics.
Neither Slovakia nor Poland, both ex-communist EU countries, have hosted an Olympic.
But while politicians hope for the positive economic spin-offs of hosting the Olympics, environmentalists in Slovakia have voiced concerns about the impact on the High Tatras, Europe's smallest Alpine-type mountain range.
The Russian city of Sochi plays host to the 2014 Winter Olympics before South Korea's Pyeongchang takes up the torch four years later.
Several cities have voiced their interest in hosting the 2022 Games, including Oslo, Barcelona and Munich, while residents of Switzerland's Davos and St. Moritz rejected their bid in a poll earlier this month.
The International Olympic Committee will pick hosts for the Games in early August 2015 in Kuala Lumpur.
(China Daily 03/29/2013 page23)
Most Popular
Highlights
What's Hot