Fit Murray seeks to reverse Indian Wells fortunes
Andy Murray is counting on his recent fitness training to carry him through at the Indian Wells ATP Masters, but knows his lack of matches could work against him.
Murray's stellar 2012 campaign included a runner-up finish at Wimbledon, an Olympic singles triumph in London and a US Open victory that made him the first British man to win a Grand Slam title since Fred Perry in 1936.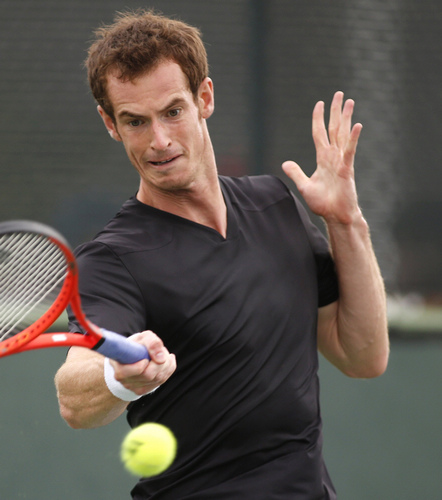 Andy Murray of Britain hits the ball while practicing at the BNP Paribas Open on Thursday. [DANNY MOLOSHOK / REUTERS]
He opened 2013 with a title in Brisbane, and followed up by reaching the final at the Australian Open, where he fell in four punishing sets to Novak Djokovic.
Indian Wells, the first Masters tournament of the year, is his first event since then.
But Murray said the time away from the competition, working on his fitness, has value in both the near and long term.
"In terms of playing matches, yeah, that's a disadvantage," he said. "But I value my fitness block a lot.
"I think it makes a big difference throughout the course of the year, playing the Grand Slams.
"My mind tells me that if you train for 3 1/2 weeks when no one else is training then physically you should be in better shape."
Murray said he has come back from extended breaks to play well in the past, including good results in Australia after a five-week break.
"It's not always easy the first couple of matches, but I think in the long run it's preserving my body and giving my career hopefully a bit more length," he said.
However, Indian Wells hasn't proven a good place for Murray to try to work his way back into match-winning form.
For the past two years he has fallen in his first match. Last year it was to 92nd-ranked Spaniard Guillermo Garcia-Lopez and the year before to American Donald Young.
Murray, who will face either Russian Evgeny Donskoy or Japan's Ito Tatsuma in his second-round opener at the weekend, said the recipe for avoiding another such disaster was simple:,"Play better".
"I just haven't played well the matches that I lost here," he said. "Even if I'm not feeling great in my first match, just try and hustle and chase as many balls down as possible and try to find a rhythm."
Most Popular
Highlights
What's Hot