Wanted: Lots and lots of Chinese soccer players
You can't have good soccer teams unless you have a whole lot of soccer players.
With the image of Chinese soccer tainted by match-fixing scandals, the nation has experienced a dramatic decrease in its soccer-playing population over the past decade.
Chinese Football Association research in 2011 found only 8,000 players registered at local soccer associations nationwide.
In addition to the sports authority's existing efforts to promote the sport in schools in recent years, Chinese coach Xu Genbao suggested modifying and expanding the structure of the Chinese leagues.
"The CFA faces many difficulties in persuading schools and parents to let children play soccer because academic performance is always the most important aspect in Chinese education," said Xu, who coached Shanghai Shenhua and Dalian Wanda to league championships in the 1990s and will be leading Shanghai East Asia in the upcoming season.
"What the CFA can do is to adjust the league system into a pyramid structure," said the 69-year-old.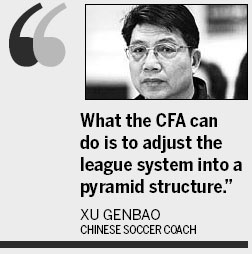 Xu began producing Chinese soccer stars at his base on Chongming Island, Shanghai, when he quit the professional league in 2002. Apart from the Chinese Super League squad, Xu has four reserve teams consisting of more than 100 players.
The Chinese league system now has 16 CSL teams, 16 second-tier teams and 26 squads in the third-division amateur league.
"We can expand the second league to 24 teams, and add more in the third league - every team that applies should be allowed to play," Xu said. "The pyramid structure will offer a lot more opportunities for players to participate in the sport, and avoid losing talent. Many young players give up their careers because they have no chance to play."
Xu also suggested the CFA should learn from the Spanish soccer system which allows reserve teams to compete in the main league system. However, reserve teams are not allowed to compete in the same tier as their senior team.
Spain has 20 teams in La Liga, 22 in the second division, and 80 clubs in the third division. Barcelona and Real Madrid have their second teams playing in the second-tier league.
"Most players on our second team will have no games left to play after finishing the Chinese National Games (representing Shanghai), except for those who are selected to the Super-League lineup," Xu said.
"But if the CFA allows a first-flight club to organize another team to play in the second or third division, our young players will get the chance to practice and learn. I can choose the best players for our first team and make money by transfers to improve the reserve teams.
"There is no such constraint from FIFA that one club can't have two teams in the league system - CFA set that rule itself. The pyramid structure would provide more people with opportunities to play, and may attract more youngsters to the sport."
(China Daily 03/08/2013 page23)
Most Popular
Highlights
What's Hot