Defeated Serena targets Dubai recovery
Serena Williams hopes to shrug off the disappointment of her Qatar Open final defeat by celebrating her return to the world No 1 spot after more than 2 1/2 years with victory in the Dubai Open.
The 31-year-old American's performances have belied her status as the oldest No 1 in the history of the women's game, as she came from the edge of defeat to survive against Petra Kvitova and depose Victoria Azarenka from the pinnacle.
Williams, (pictured) who lost to Azarenka in Sunday's Qatar final, could now face both again over the next few days.
The 15-time Grand Slam title winner is seeded to meet Azarenka in the final for the second time in seven days and the Dubai draw offers the likelihood of another meeting with Kvitova, the former Wimbledon champion from the Czech Republic.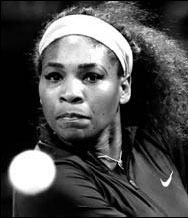 If Williams' recent achievements seem remarkable, after the pulmonary embolism which almost ended her career, and the persistent back and ankle injuries which harmed her chances at the Australian Open, they apparently do to Williams herself.
"I'm pretty good at tennis still, so why not? I'd just rather I didn't sit at home all day." she said
If Williams' rematch with Azarenka is to happen, the Australian Open champion might have to survive an opener with Nadia Petrova, the in-form top 20 Russian, and a quarterfinal with either Angelique Kerber, the fourth-seeded German, or Samantha Stosur, the former US Open champion from Australia.
This is well within Azarenka's capacity, having started 2013 in the best form of her career.
She was not upset at losing the No 1 ranking to Williams.
"That's so out of my hands," she said. "I have been playing really well, so why should I be frustrated? A ranking is a ranking. It just is how it turns out."
Azarenka, who beat Williams only for the second time in 13 meetings, was also comfortable with paying a tribute to her American rival.
"She really changed the women's game, really lifted up the level," the 23-year-old Belarussian said. "She's a legend. I don't know where I'm going to be at 31. Hopefully not playing tennis, but it's definitely an incredible achievement."
(China Daily 02/19/2013 page23)
Most Popular
Highlights
What's Hot