Short-handed Lakers beat Nets 92-83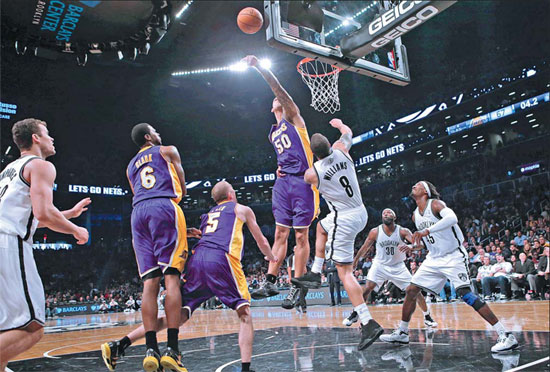 Los Angeles Lakers' Robert Sacre (50) blocks a shot by Brooklyn Nets' Deron Williams (8) during the fourth quarter of the Lakers' win over the Nets in Brooklyn, New York, on Tuesday. The Lakers won 92-83. Mike Segar / Reuters
Kobe Bryant would have liked to celebrate more, maybe gloat about that highlight-reel dunk, but there were bigger concerns.
Dwight Howard couldn't start and Pau Gasol couldn't finish. And in this difficult season for the Los Angeles Lakers, even the victories seem to come with losses.
"It feels good to pull out a win like this, but now reality kind of sets in," Bryant said. "If Pau can't go and Dwight can't go, we have to figure some things out."
Bryant had 21 points and eight rebounds, and the Lakers overcame the absences of Howard and Metta World Peace, and the loss of Gasol to beat the Brooklyn Nets 92-83 on Tuesday night.
Antawn Jamison, starting for the suspended World Peace, made the go-ahead basket during a closing 14-3 run for the Lakers, who have won three straight and six of their past seven games.
Howard missed his third consecutive game with a torn labrum in his right shoulder and Gasol, his replacement, said he felt a pop in his right foot when he went down with a little more than four minutes remaining. He was examined by Nets doctors and diagnosed with a strained plantar fascia, and will undergo an MRI exam on Wednesday in Boston.
"I had fasciitis and I had been dealing with it for a couple of months now, but I didn't feel anything like I did tonight," Gasol said.
Brook Lopez capitalized on the Lakers' center woes to finish with 30 points and 11 rebounds, but he was the Nets' only offense down the stretch in their fourth loss in six games.
Steve Nash had 17 points and eight assists and Earl Clark added 14 points and 12 rebounds for the Lakers, who beat the Nets for the 10th straight time. Gasol scored 15 points.
The Lakers improved to 3-0 on the road in February after going 0-7 in January, seizing control in the final minutes without many of the players who were expected to make them a top contender this season.
Bryant's attacking drive and slam between Gerald Wallace and Kris Humphries snapped an 80-all tie, the play that had Barclays Center buzzing in his first trip to an arena that was filled with plenty of Lakers' gold and purple.
"I was pretty shocked that the lane was so wide open," Bryant said. "I think everybody's been drinking the Kobe pass Kool-Aid, so everybody kind of stayed on the perimeter on the shooters and it just parted like the Red Sea. So I felt a little like Moses."
Battling recent elbow pain, Bryant said his arm hurt a bit after the play but he was forced to ignore it.
"After a play like that you really can't grab your arm, it messes up the swag of the moment," he said. "So you've got to kind of suck it up for a while."
Lopez answered quickly with a three-point play to give the Nets their last lead with 2:33 to play. Jamison scored on a pick-and-roll, Bryant drove for another basket and Clark hit a jumper to give the Lakers an 88-83 lead with 1:11 remaining. The Nets couldn't score again, and Nash closed it out with four free throws.
Lopez blamed himself for poor decisions on offense and bad defense on the pick-and-roll down the stretch.
Notes:
D'Antoni coached his first game with the Lakers in a 95-90 victory over the Nets on Nov 20 ... Bryant, who's had high assist totals lately, was asked earlier on Tuesday if he would remain in distributing mode at the All-Star game, where he is the career scoring leader. "No, I'm seeing single coverage there. I'm shooting that (expletive)," Bryant said ... The Nets haven't beaten the Lakers since Nov 25, 2007.
(China Daily 02/07/2013 page24)
Most Popular
Highlights
What's Hot